In this video, you are watching over 600 students at 8am in a School Assembly of the "Can I Kiss You?" program engaged, thinking, opening their minds, and making decisions to change their actions.

Bring the "Can I Kiss You?" program to your community and witness your students talking nonstop about the positive changes they WANT to make. You'll hear them saying how much the presentation "blew their mind" and "really has me thinking about how I need to change the way I date."
SPECIAL OFFER: By calling 800-329-9390 today, you will receive a complimentary copy of the critically-acclaimed book "May I Kiss You?" by Mike Domitrz.  Schools throughout the country use this book as curriculum in the classroom and for creating positive change with their students.  Click here to send us an email.
INSURING A GREAT ASSEMBLY FOR YOUR SCHOOL:
One of the biggest fears many middle schools and high schools have is "How can we know this speaker is going to capture our students attention AND do so appropriately while giving them needed tools for making a difference?"  The answer is:  You need an expert with a proven track record of excellence with schools of all sizes, demographics, and cultures.  You require a quick thinking professional who is gifted at reacting specifically to your students' reactions and comments.
"Your presentation to the two junior highs: 500 and 440 teens, were outstanding.  These teens were rowdy audiences, but you handled them expertly, got and held their attention and really made an impact.  Even the School Principals who are somewhat conservative were very impressed."
Anne Smith, RN, BSN, Yuma County Public Health Services District (AZ)

For over 2 decades, Mike Domitrz has been inspiring students, educators and parents with the unique combination of his hilarious sense of humor along with his uncanny ability to draw hard-hitting emotion from audiences.  School districts constantly share what a lasting impact he has with people of all ages.
"It has been 3 months since you presented your 'Can I Kiss You?' Program to high school students, and separately to parents, in our communities of Lake Forest and Lake Bluff, Illinois.  To my surprise, and immense satisifaction, people are still talking about it!

…three students at a local coffee shop were overheard recently, two full months after your visit, discussing the idea of 'asking' that had been presented by 'that dude we heard at school in the Fall."
Lydia Backer, Program Director, LEAD (IL)
With Mike, you get a critically-acclaimed author and passionate educator on healthy dating, consent, bystander intervention, and supporting survivors who is leading the way by constantly changing and further improving each presentation he gives.  You get a professional presenter who studies exactly how each audience member reacts to different techniques and learning styles.  You get a dedicated advocate who commits to always respecting every aspect of a very sensitive topic.
"Mike Domitrz brought his powerful presentation to Mahnomen, Wauban and Circle of Life Schoos on the White Earth Ojibwe Nation and to an Alternative Learning Center near the reservation reaching 870 students…His method of not putting words into their mouths but instead using their words and language was absolutely incredible…

It is important to recognize that never before has there been a National Speaker who has ever promised our youth that he would respond to their emails within 24 hours. His commitment to make effective changes in the lives of our youth is to be commended."
Lisa Brunner, Executive Director, Community Resource Alliance Tribal Alliance (MN)
To be an effective and powerful educator, you need to always be learning new approaches and concepts of working with people of all ages (students, staff, and parents).  Yes, the educator needs to be a STUDENT.  The #1 source for teaching better speaking techniques and presentation skills is the National Speakers Association (NSA) – the professional trade organization for speakers around the world.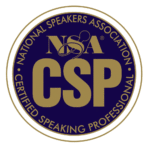 Mike Domitrz is an active and involved member of NSA.  In fact, he is one of the few Certified Speaker Professionals (CSP) across the globe specifically working in Education.  Each year, the National Speakers Association gives this earned recognition to those speakers who accomplish all of the following criteria:
At least 50 speaking events each year for 5 consecutive years.
A score of at least 7.5 on evaluations from clients over the past 5 years (on a 10 point scale).
Minimum level of professional credits earned by attending NSA Educational Events (shows commitment to the craft of working with audiences and making a difference).
What does Mike being a Certified Speaking Professional mean to you?  You are getting a leading authority, author and ally who is also one of the top speaking professionals in the world.
"Mike understands not only his message but the interests and needs of the audiences he serves. He has a very energetic and entertaining style that engages all audiences. His message is powerful and the people in his audience naturally gravitate to him."  Sam Silverstein, former President of the National Speakers Association.
Best of all, you are working with a devoted professional who CARES about you, your organization, your community, and each person in the audience.  Individuals and organizations who have brought Mike to speak are continually telling us here at The Date Safe Project how wonderful he is to bring to their schools.
"He made my job very easy. He answered my numerous inquiries promptly, respected and honored our requests regarding his presentations and took the time to get know our audience before he arrived."
Jayne Giroux, Making Good Choices Council, Bradenton (FL)
SCHEDULING MIKE TO SPEAK. Due the long lasting impact Mike's program has on communities, his available dates tend to quickly be taken each year.  How can you insure a date is held for you?
Call Rita in our offices at 800-329-9390 TODAY!
**You can click here to send us an email.
SPECIAL OFFER: By calling 800-329-9390 today, you will receive a complimentary copy of the critically-acclaimed book "May I Kiss You?" by Mike Domitrz.  Schools throughout the country use this book as curriculum in the classroom and for creating positive change with their students.