On this page, you will DISCOVER:
POSTERS
After you bring an educational program to your campus, do you wish you had more opportunities to continue the lessons learned in the expert's presentation? Now you can! The "Do You Ask?" poster series is the most direct consent based educational poster series used throughout the world. Each poster is both eye-catching and educational. The "Do You Ask?" theme of this innovative poster campaign teaches everyone, "The only way you can absolutely know what your partner wants is by asking first!"  Plus, the poster series now includes new posters addressing bystander intervention toward dating violence and healthy relationships.
You get outstanding discounts when purchasing bulk quantities of the posters. With 50 or more posters, you save over 40% off EVERY poster AND you get 2 posters for the price of 1. (which means you are really saving 80% off each poster).  Check the popular posters out at www.doyouask.org!!
BOOKS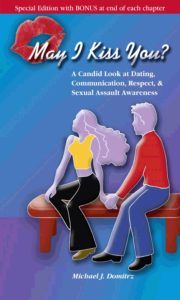 In addition to the powerful line of posters, you can utilize both of Mike Domitrz's books, May I Kiss You? and Voices of Courage, to continue the lessons and skills shared throughout the day with Mike on your campus. Get the books for a discounted bulk price in the 100 PACK special package. With the 100 PACK, you choose 100 books (any combination of the 2 books you want) and you get each book for only $8 (over 50% discount).  Mike will be happy to sign each book for you, your students, and staff. Plus, you can include the "Can I Kiss You?" T-shirts in the 100 PACK. Call 800-329-9390 to get the 100 Pack NOW!!!
PLEDGE for ACTION
Plus, the Pledge for ActionRM is an educational campaign to use throughout your campus, community and region. Pledge for ActionRM is a powerful agreement students, partners, families, educators, and individuals sign to pledge that they will do their best to help their family, friends and peers in potentially dangerous moments concerning alcohol, drugs, and sexual assault. After you have read the agreement and/or used it with students, please scroll down this page to share your comments.
How it works? Each individual signs one copy of the full agreement and signs one copy of the Hearts Page. You can download the entire agreement (full page and hearts page) when you scroll down this page. The signed copy of the full page is given to the individual to take home and the signed Hearts page is to be placed in specific locations around your school and/or community. By placing all the signed hearts throughout your school (and in the nearby communities), your students, their families and the entire community will realize how many people DO care about this issue and are committed to helping others!
PLEDGE FOR ACTIONRM

I, ____________________________________________, pledge to do my best to help my family, friends, and peers in potentially dangerous situations in which drugs, alcohol, a violent person, or other threats to their safety and well-being are present. I will do this by having the focus and self-control necessary to remain aware of my surroundings, the wisdom to identify dangerous situations, and the courage to take action in confronting my friends when their judgment is impaired.

I recognize that these dangerous situations may arise at times when people feel safe and comfortable, such as at bars, parties (especially when alcohol is influencing the situation and a person is trying to "hook up" with another individual), or in the context of a romantic relationship. I realize that it may not always be easy to help people from harm in these situations, but by remaining watchful and showing care and concern, I may help to prevent a sexual assault from occurring.

I understand that the ONLY person responsible for a sexual assault is the person who engages in sexual contact without the consent of the other person. Through my own positive words, actions, and beliefs, I am taking the responsibility of helping to end sexual assault. I will share with people the importance of consent and the need to obtain consent with your partner by Asking First. I will treat all survivors of sexual assault with my respect and admiration. I will inform all of my family, friends, and peers that "If anyone ever has or ever does sexually touch you without your consent, I will fully support you. I will always be here for you. Always (from simply listening to helping you seek the proper support from professionals)!" During the next 24 hours, I will start putting this pledge into action by saying these words to at least 3 people.

Sexual assault is a horrific and traumatic crime. My active commitment to this project will help reduce the violence in my community and create a safer atmosphere for everyone.
DOWNLOAD the 2 page PLEDGE FOR ACTIONRM to utilize in your community!
BEGIN the Impact Today.  Call 800-329-9390.


Ask About the Special Offfer.