Click the PLAY button on the video to your left and begin watching over 600 students experiencing the "Can I Kiss You?" program at 8 in the morning!. You will notice they are engaged, thinking, opening their minds, and making decisions to change their actions.

Bring the "Can I Kiss You?" program to your campus and witness your students talking nonstop about the positive changes they WANT to make. You'll hear them saying how much the presentation "blew their mind" and "really has me thinking about how I need to change the way I date."
SPECIAL OFFER: By calling 800-329-9390 today, you will receive a complimentary copy of the critically-acclaimed book "May I Kiss You?" by Mike Domitrz.  Campuses throughout the country use this book as curriculum in the classroom and for creating positive change with their students. Click here to send us an email.
INSURING A GREAT PROGRAM FOR YOUR SCHOOL:
One of the biggest fears many campuses have is "How can we know this speaker is going to capture our students attention AND do so appropriately while giving them needed tools for making a difference?"  The answer is:  You need an expert with a proven track record of excellence with schools of all sizes, demographics, and cultures.  You require a quick thinking professional who is gifted at reacting specifically to your students' reactions and comments.
"I want to recognize your talent and gift for clearly shifting the attitudes of an audience in only 75 minutes.  Several staff members let me know they were in awe of your ability to affect change in a large group of students so profoundly and quickly."
Marilyn Kile, LCSW, U.W.-Whitewater

For over 2 decades, Mike Domitrz has been inspiring students, educators and staff with the unique combination of his hilarious sense of humor along with his uncanny ability to draw hard-hitting emotion from audiences.  Campuses constantly share what a lasting impact he has with people of all ages.
"2 weeks later and students are still talking about your presentation and more students are approaching me to ask me how they can support their friends who are survivors."
Som Mongtin, Women's Center, Minnesota State University, Mankato
With Mike, you get a critically-acclaimed author and passionate educator on consent, bystander intervention and supporting survivors who is leading the way by constantly changing and further improving each presentation he gives.  You get a professional presenter who studies exactly how each audience member reacts to different techniques and learning styles.  You get a dedicated advocate who commits to always respecting every aspect of a very sensitive topic.
"I am most impressed with the follow-up you provided to one of this year's participants who disclosed she is a survivor of sexual assault. Your response was immediate, caring, and encouraging to both the survivor and her student counselors.  You demonstrated congruency in your message and your actions and it was a pleasure to work with a professional speaker who went above and beyond, even after the presentation was complete."
Emily Lehning, Assistant Dean of Student Life, Kansas State University
To be an effective and powerful educator, you need to always be learning new approaches and concepts of working with people (from teenagers to adults).  Yes, the educator needs to be a STUDENT.  The #1 source for teaching better speaking techniques and presentation skills is the National Speakers Association (NSA) – the professional trade organization for speakers around the world.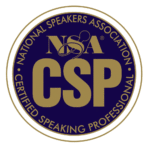 Mike Domitrz is an active and involved member of NSA.  In fact, he is one of the few Certified Speaker Professionals (CSP) across the globe specifically working in Education.  Each year, the National Speakers Association gives this earned recognition to those speakers who accomplish all of the following criteria:
At least 50 speaking events each year for 5 consecutive years.
A score of at least 7.5 on evaluations from clients over the past 5 years (on a 10 point scale).
Minimum level of professional credits earned by attending NSA Educational Events (shows commitment to the craft of working with audiences and making a difference).
What does Mike being a Certified Speaking Professional mean to you?  You are getting a leading expert, author and ally who is also one of the top speaking professionals in the world.
"Mike understands not only his message but the interests and needs of the audiences he serves. He has a very energetic and entertaining style that engages all audiences. His message is powerful and the people in his audience naturally gravitate to him."  Sam Silverstein, former President of the National Speakers Association.
Best of all, you are working with a devoted professional who CARES about you, your organization, and each person in the audience.  Individuals and organizations who have brought Mike to speak are continually telling us here at The Date Safe Project how wonderful he is to bring to their campus.
"Mike was simply a delight to work with. Prior to his keynote lecture to freshman, he met with student seminar instructors and peer mentors for a most helpful and informative workshop followed by dinner with our peer educators. He is a generous and gregarious individual whose commitment to his work is truly inspiring."
Katherine Powell, Director of First Year Experience, Berry College (GA)
SCHEDULING MIKE TO SPEAK. Due the long lasting impact Mike's program has on communities, his available dates tend to quickly be taken each year.  How can you insure a date is held for you?
Call Rita in our offices at 800-329-9390 TODAY!
**You can click here to send us an email.
SPECIAL OFFER: By calling 800-329-9390 today, you will receive a complimentary copy of the critically-acclaimed book "May I Kiss You?" by Mike Domitrz.  Schools throughout the country use this book as curriculum in the classroom and for creating positive change with their students.