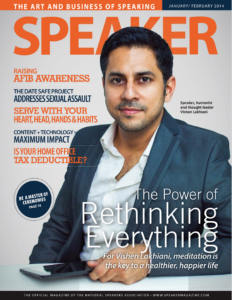 Milwaukee, WI (January 6, 2014) — Speaker Magazine, the signature publication of the National Speakers Association, has featured Mike Domitrz and The DATE SAFE Project in its January 2014 issue. Domitrz is the Founder of The DATE SAFE Project, a global awareness program focused on education to reduce sexual assault.
Domitrz was a sophomore at Loyola University of Chicago when his sister was raped. Since that day in 1989, Domitrz has made it his mission to speak about his experience in hopes that no one has to endure what his sister and family went through.
"My speaking career has afforded me the opportunity to reach millions of people worldwide," Domitrz said, "To be featured in Speaker Magazine, the industry publication for experts and speakers, is an honor. I hope readers will see The DATE SAFE Project as an example of how a dedicated team can work to make a positive impact on issues facing our society."
Domitrz is one of the world's only experts in the field of education who addresses sexual assault, respect, bystander intervention, and supporting survivors who has earned the prestigious Certified Speaker Professional (CSP) designation. "I am incredibly grateful to be surround by a fantastic team of passionate, skilled individuals at The DATE SAFE Project who work hard every day to help more people live with respect for themselves and others."
To make a request to bring Mike Domitrz to speak in your community, call our offices toll-free at 800-329-9390 or click here to email us.