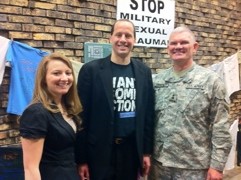 Today, I was honored to be the guest speaker for the North Dakota National Guard's weekend training program (particularly their sexual assault training). They brought 4 training weekends into one – resulting in 300 National Guard members AND their families attending.
They started their Saturday morning off with a beautiful rendition of the National Anthem and then opening remarks. Next up at 8:45am was the "Can I Kiss You?" program. My training session was a combination of SARC training and parent programming (the far majority of the audience were parents with a lot having teenagers in their home).
The audience ages ranged from twenties to retirement age and they were a fantastic group to work with. We had 90 minutes together. They were responsive, interactive, and fun. Their feedback afterward was greatly appreciated!!
For the first time in my travels, I received a customized license plate from North Dakota which said, "LUV ND" and was personally signed by the Governor of North Dakota. In addition, they presented me with their medallion. A truly special honor. THANK YOU to everyone who made the day such a success.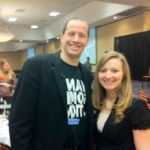 Heather Mattson did a wonderful job organizing the training event along with Rob. The Adjutant General David A. Sprynczynatyk was gracious and even took pictures with Heather and me.
In the Hallway, Heather's office had a Clothesline Project displayed. The shirts put up were POWERFUL reminders of the importance of this discussion occurring. If you live in North Dakota, keep your eyes out for this display coming to your town. They are touring the display and having it conclude with one massive Clothesline Project collaborating with local universities at the end of the month.