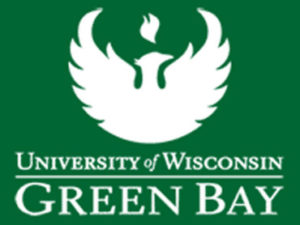 Last night, UW (University of Wisconsin) Green Bay and Brown County teamed up for a great night. First, we met with the Sexual Assault & Alcohol Task Force on campus which was comprised of Law Enforcement from Brown County, Family Services Crisis Center, UWGB students, and staff.  The hour spent with everyone was wonderful.
You can see how much passion everyone involved has for WORKING TOGETHER and helping students.

Next up was the "Can I Kiss You?" program which resulted in standing-room only.  Students were waiting in line for over 1 hour to win the popular "Can I Kiss You?" T-shirts.  Watch the video below of a "Roaming Reporter" going the length of the line the students were waiting in:
A big THANKS goes out to Laura and Amy for doing a spectacular job of promoting the event and getting students on campus excited. They really followed the plan to the detail. Plus, they are both wonderful professionals to work with!!  At the end of the show, the students wanted to send a shout out and here it is:
Next up was the training for the Residence Life staff.  GREAT GROUP of RAs – they were engaged, interactive and clearly a dynamic team of student leaders.  Here are some pics displaying their high energy and enthusiasm:
[nggallery id=39]
THANKS EVERYONE for an amazing DAY!!