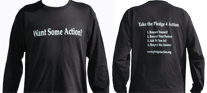 The following 10 college students won the "Want Some Action?" T-shirts on Tuesday night at 11pm. Remember how special 11pm is? Congratulations!!
Sarah from Ontario
Kieran from Ontario
Silver from Missouri
Brianne from New Jersey
Katie from New Iowa
Morgan from Connecticut
Mark from New Jersey
Ashley from Missouri
Meghan from New Jersey
Rayven from Pennsylvania
If you are one of these 10 people and did NOT receive an email from us tonight, click on the CONTACT US link at the top and email us ASAP. Congratulations again!!
EVERYONE CAN WIN by coming back to the site a few times a week and commenting in the forums. Have fun sharing with others and reading the experiences of students from around the world! Plus, exclusive HOW TO materials will constantly be added for you.