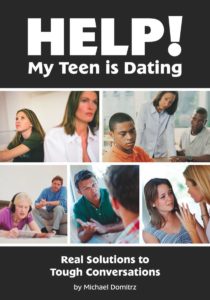 Are you aware of 3 NEW shows for parents we are about to launch? We would be honored to have your input for creating the NAME of each show and WHO you would like to have us interview on the show. Here are the new shows which are about to launch:
A bi-weekly (every 2 weeks), interview series you can join LIVE for free. A top expert for helping parents will be interviewed by Mike Domitrz for a 30 minute to 60 minute in each episode.
A weekly 15 minute to 30 minute podcast for parents sharing insights and helpful how-to skills. What would you name this podcast?
A weekly 3 to 5 minute show on our YouTube channel for providing parents unique insight, perspective, and how-to skills for talking with their teens.
Share your ideas for naming each show in the Comments section below. The winners of each naming will get their choice of the following:
HELP! My Teen Is Dating DVD Set
or
Your choice of a DATE SAFE Project T-shirt.
Share your ideas in the FaceBook Comments section below today (need to be logged into FaceBook)!
Want to make sure you are one of the first people to know about the shows when they launch? Sign-up by clicking here.