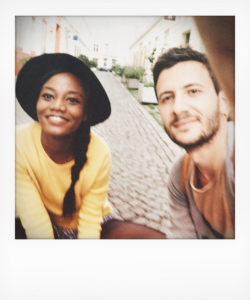 Laura is a student who recently saw Mike present the "Can I Kiss You?" program at her University.  She decided to share her  story with The DATE SAFE Project and with you, our community. Thank you Laura  for  words of wisdom! 
To share your story or to nominate a story click HERE: Feel free to share and follow us on twitter with #AskFirst and #SurvivorStrong.
This is Laura's story, written in her own words:
Life before didn't feel abnormal or odd because I never thought about being asked since it had never happened. I feel like being asked is very uncommon in today's society because a lot of the times people only think about their experience and forget that someone else is a part of the equation. After being asked to be kissed for the first time, I felt really respected and knew he really cared about my experience in that situation. He knew that our first kiss wasn't something he could only control, and instead wanted me to have just as much control in the situation as him.
At first I was caught off guard because most times people go straight for the kiss without even thinking about whether the person on the receiving end wants it or not. I remember he made strong eye contact with me and said, "can I kiss you?" In that moment I grew silent and I honestly thought about if I wanted him to kiss me in that instance, and I said, "yes." I found it endearing and I felt very comfortable because he gave me the power to decide what happens next, when in reality that isn't the case a lot of the time between people.
I learned that you have the ability to choose the fate of that situation, whether you are asking if you can kiss someone or are being asked. If you don't feel comfortable in a situation, you don't have to kiss someone just to please them or because THEY want to. Make sure you are kissing someone because YOU want to. Kissing is intimate and can be a very nice experience, so do it with someone you feel like is respecting you and your decisions. If you don't want to kiss them, you don't have to. If you want to kiss someone, make sure you have enough respect for that person and their well-being to ask them to be a part of that decision regardless of where you would like the relationship to go or not go. Take it from someone who was asked to be kissed for the first time ever, and know now is in a happy and committed relationship.
-Laura
**The image at the top of this article is not of the person who shared this story.
-Mike Domitrz, founder of The DATE SAFE Project
Join us for more tips on Twitter and Facebook.
If you have any questions about our programs at The DATE SAFE Project or speaking engagements please contact Rita at 800-329-9390 or you can email her at Rita@datesafeproject.org