Friends,
It's a beautiful day in sunny Arizona! As I sit here, in my hotel room, getting ready for another exciting day at the National Speaker's Association Conference, I am amazed at the outpouring of support and fellowship.
The "hallway" conversations among friends and colleagues are always some of my favorite. It's where you really learn what is going on in people's lives, their dreams and aspirations. While I always have several wonderful key take-aways from meetings like this, I never leave without one that resonates with me, one that gets to the core of who I am and how we, as a community, continue to create a culture of consent and respect.
Today, I wanted to share with you my key take-away; it's simple. One word. DIALOGUE. As humans in a crazy world with competing priorities and more noise then ever, we are all searching for ways to have meaningful dialogue with each other. Ways to connect on a deeper level.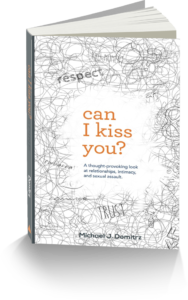 Today, I make a promise to myself and to you, that I will not stop creating and engaging in a dialogue to propel our mission of why asking first makes all the difference. It may be uncomfortable for some at times, and that's ok because it sometimes takes an uncomfortable conversation to effect change. But, it's worth it, especially for each person who makes the choice to act.
With that in mind, most of you know that my newest book, "Can I Kiss You?" is launching on August 1st. I invite you to click HERE and enter to win one of 3-signed copies and consider taking a look at the book HERE on Amazon. The paperback is on sale through August 1st at $9.95 (same price as the Kindle version which is a $6 SAVINGS).
Please know that even if you buy zero or a ton of books, I appreciate you! I appreciate you for being part of this important dialogue.