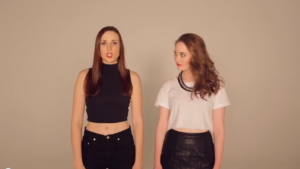 The  video "Defined Lines" on YouTube is a Rated "R" parody of Robin Thicke's original video of "Blurred Lines" where all the females in the video are topless. This parody was created by The Law Revue (Auckland University students).
Last week, we blogged about the Robin Thicke and Miley Cyrus performance at the VMAs – pointing out that almost no one was discussing Robin Thicke's role in the performance (click here to read).
We shared how degrading Thicke's lyrics in the song "Blurred Lines" were and especially how sexist his video featuring all topless women was. Now people ARE SPEAKING OUT, including this blunt parody.
WARNING: the video you are about to receive a link to would receive an "R" rating in the movie theatres  (both language and imagery).
Click here to see the full video:
http://youtu.be/tC1XtnLRLPM 
SHARE what YOU think of the parody.