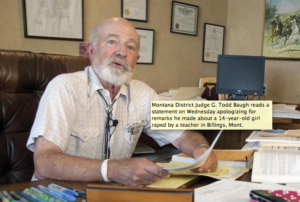 UGH!!
In Montana, Judge G Todd Baugh sentenced a CONVICTED RAPIST, Billings Senior High teacher Stacy Rambold, to a term that resulted in only 31 days in jail out of a 15 year sentence. The 49 year-old convicted rapist sexually assaulted a 14 year-old student. A teacher is an authority figure who is trusted to keep children safe. The 14 year-old survivor later committed suicide.
With no regard for what the law says (a 14 year-old cannot give consent), Judge G Todd Baugh implied the CHILD had an equal voice in the decision-making process.
This case is beyond frustrating and sad. A judge implies that a 14 year-old CHILD has the same power in a sexual relationship as her 49 year-old teacher. Can you hear my disgust through your computer screen? As the brother of a survivor of sexual assault and someone who works with teenagers around the world, I am appalled!
Not only is Judge G Todd Baugh's reasoning wrong on many levels, he is absolutely LEGALLY WRONG. A 14 year-old can NOT give consent to sexual activity with an adult. I can't say it enough times: she CAN NOT give consent to sexual activity with an adult.
We have age of consent laws in the United State specifically to protect CHILDREN from adult predators.
To make matters worse, the judge apologized for the words he said, BUT NOT THE SENTENCING. In his apology, he said how his words were offensive to women. Judge G Todd Baugh, your SENTENCING is offensive to all genders – to anyone who cares about protecting children!
Please speak out and help the citizens of Montana to remove this judge from the bench.

LEAVE YOUR THOUGHTS in the COMMENTS SECTION BELOW.