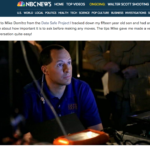 Teens are at a party where alcohol is present. Suddenly, the situation is about to get worse. Your child is at the party and sees the situation about to explode in a way that could hurt another person at the party. What would your child do? Would they respond the way you raised them to?
Watch Mike Domitrz this Sunday, June 14th, at 8pm Eastern Time / 7pm Central Time on Dateline NBC's "My Kid Would Never Do That" with real-life party scenes and hidden cameras exposing the reality of what happens. You might be surprised what actions teens choose to take. Mike will help both parents and kids be better prepared for these scary realities facing teens today.
.
.
View NBC Dateline's promo by clicking here.