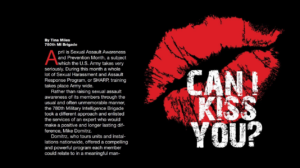 Here is an AWESOME article written about the GREAT work that SHARP has been doing to work with the military on preventing sexual assault! Recently, I conducted two trainings at Fort Meade – a "Can I Kiss You?" Training and a "The MISSION is Transformation" Training. Afterward, Tina Miles of the 780th MI Brigade wrote this AMAZING article about our work with the military and specifically these 2 training sessions.  CLICK HERE to read Tina's article.
P.S. Being invited to provide training for military members at installations all across the country and the world is an honor. While working with our military services (Navy, Air Force, Army, Marines, & Coast Guard), you get to see the passion many professionals have for wanting to reduce sexual violence, including Leadership and Commands. Plus, each installation typically has at least one SARC (Sexual Assault Response Coordinators) who is a devoted advocate for wanting to create a culture of consent and respect.
Without individual leaders and professionals caring about wanting to make transformational impact on those serving in our military, we wouldn't have the opportunity to facilitate these important discussions. A huge THANK YOU goes out to the incredible individuals whom bring us to share with their military community.