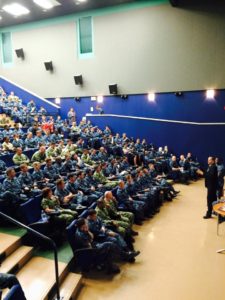 These past two weeks have been filled with traveling throughout Europe to conduct trainings for the US Navy from May 5th – 15th and then wrapping up speaking to a DoD School at Ansbach Army Post on Monday, May 18th.
The first 2 weeks I was part of a dynamic team representing Atlantic Fleet Forces with the US Navy. The team typically presents 2 days of training at each location for Front Line Supervisors, Senior Leadership, Program Managers, and then an "All-Hands" Sessions (sometimes 2).
In the Front Line Supervisors, Senior Leadership, and Program Manager sessions, attendees learn about policies, updates, suicide prevention, alcohol and other drugs, domestic violence and sexual assault.
My role in these trainings was the following:
In 3 of the 4 locations, I was presenting our "

The

MISSION

Is

Transformation

" Training with Front Line Supervisors and Senior Leadership. Plus, I was conducting a training we title "

The Keys to ENGAGEMENT

" for the Program Managers.
At 2 of the locations, I also presented the "Can I Kiss You?" Trainings for the "All-Hands" Session.
Our trainings are brought on the tour with 2 main goals:
1. Provide specific how-to skill sets for sailors of all ranks to make positive behavioral changes.
2. To interact with all levels of leadership in having important conversations for
transforming
our culture to one based on consent and respect in all sexual activity – lead through discussions that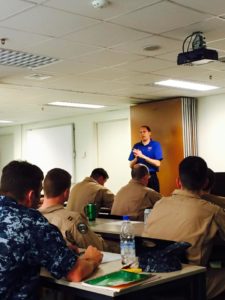 are not typically being had in today's society.
The feedback was sensational. When people would ask me, "Are you wiped out by the end of such an extensive tour?", I answer, "No, I am motivated and inspired!!!" When you get to help individuals uncover discoveries for themselves of what is possible in their lives and in the lives of the sailors they lead, seeing that
transformation
happen right in front of you is moving.
During one training, a leader said, "This is mind-blowing" and within minutes another leader put his hands on his head and said, "Wait. Wait. I need to totally comprehend this. This goes against what we've been taught for sooo long" (as he put wrapped his hands around his head). They WANTED the right skills for getting to where we need to be in our society if we want to reduce sexual assault long-term.
At all 4 locations the passion for wanting to reduce sexual assault was evident throughout those serving our country. When we took the conversations into directions often not discussed, members of the Navy got involved and thus made the trainings truly special.
An additional and wonderful aspect of this tour is working with the Atlantic Fleet Forces team that is lead by devoted, caring professionals who are determined to help create the best environment for our sailors, especially working to reduce sailors from engaging in destructive behaviors.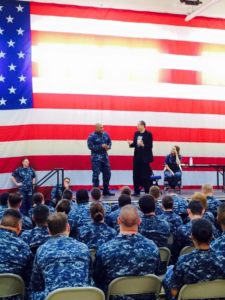 Marie Parker is responsible for putting the tours together and running all the logistics and details – in addition to presenting during the trainings. Captain Charles Marks with SAPR shares awesome insights, including the latest on the NeuroPsychology of Sexual Assault; Captain Doyle Dunn discusses the role of Chaplains and all the ways they can be a resource; and Eddie Thomas with NADAP discusses important policies surrounding alcohol and other drugs.
Hanging out with this team for two weeks is a joy. For true
transformation
to occur, you need people who are willing to work hard every day to achieve it. This team does that. The results of their work continually showed themselves in the great survey responses from attendees and in the amount of leaders who personally shared with us at all 4 locations.
When you hear reports in the media or on blogs about sexual assault training in the US Military, please realize how many people – like the team I was conducting trainings with – are doing AMAZING work toward transforming the culture. They are changing the way training is being conducted. Transformation takes time and requires overcoming old perceptions and ways of doing things. The people I get to work with in the Navy are transforming HOW training is being done.