Having just returned from the National Speakers Association (NSA) Convention in Orlando earlier today, I was reminded of how my being actively involved in NSA has surrounded me with some of the top minds in the world (in various fields of expertise).  I want to bring this special community's skills and knowledge to you.

The National Speakers Association is the largest professional organization in the world for experts who speak.  The ONLY EARNED credential in the United States for professional speaking is given by NSA each year to a select group of speakers. The designation is named the "Certified Speaking Professional."  To obtain the credential, you must show a track record of years of speaking with proven results (evaluations from events over your career, a minimum number of presentations per year, etc…).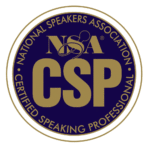 Those of us who are Certified Speaking Professionals are constantly communicating and sharing with each other – regardless of the field of expertise.  I often hear from and discuss ideas with experts in the field of health, leadership, accountability, finances, creativity, technology, life balance, humor, and many more topics.  Since I am fortunate to have such an unique network available to me, I'd like to bring their knowledge and skills TO YOU!
The fact is each person's ability to make a positive impact on the job, at home, and/or in giving to others – is directly impacted by many separate influences. My friends and colleagues in the National Speakers Association are continuously inspiring people around the world with helpful strategies to improve each area of life.  We can invite authors who discuss the issues related to our mission here at The Date Safe Project Inc AND those who may not appear to have a direct correlation, yet could be a tremendous resource.  Often while I'm listening to a program, one specific concept being said makes me think of how I could use that concept in lots of different mediums in my life – both personally and professionally.
WHO would you like me to invite to write a special guest article and/or to be interviewed for you to listen to?  What issues would you like to see discussed more often?  Post a "COMMENT" and tell me topics you would like discussed and/or specific professionals you would like to see interviewed.  To get started, ask yourself, "What area of my job, life, and/or social community would I like to improve?" (after you get one answer, keep thinking of more).
Remember, I will personally respond to the comments each day.  NOW, post your comment!