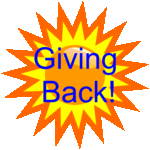 Would you love to have the "Can I Kiss You?" program and/or "HELP! My Teen Is Dating" seminar for parents presented at your service group (guest speaker) or for a local non-profit organization, faith institution, community group, or a regional/national conference?
Every year, we at The Date Safe Project Inc donate a number of presentations to non-profits and organizations requesting our help.  Giving back to the community and society is an important part of our mission.  Thus in 2011, we are greatly increasing the number of programs we will be donating!
To be considered for a donated presentation, go to our "Contact Us" page and answer the following questions (be sure to give us all your answers in detail):
The Details of the Event: time, date, and place (facility, city, state).
Hosting organization.
Goal of the event.
Who and how many individuals will be in attendance. Be SPECIFIC.  How many of each of the following groups will be attending: parents, educators, crisis centers, and students?  For students, tell us how many of each age group (middle school, high school, college/university).
Do you have Sponsors for the event (local, regional, or national corporations)?
Is the event a Fund-Raiser for a non-profit?
WHY you believe your event should receive a donated presentation.
If your event is not within 120 miles of Milwaukee (WI), would you be willing to pay for travel expenses: transportation, flights (if needed), lodging, and food?
URGENCY:
The sooner you apply, the BETTER!  The Fall is almost already full and so your best option for available dates is the next few months (January – March).  You could ask for a date one week from now and potentially be granted your request!  Why?  Campuses are just getting back and K12 school systems are in the middle of finals. Consequently, availability does exist.  This is the BEST time to make a request.
IMPORTANT: Please understand that while we are greatly increasing the number of donated shows for 2011, not everyone will be able to receive a donated program. If we are not able to fill your request for a donated presentation, we WILL be happy to work with you to provide funding options for still bringing the requested program to your community.
REMEMBER to go to our "Contact Us" page and answer all the previous questions listed above (be sure to give us all your answers in detail). Help make a HUGE IMPACT in your community today!!