From tragedy to triumph, inspiring lessons unfold in this one-of-a-kind book by twelve survivors of sexual assault. An eye-opening journal of personal growth and recovery, Voices of Courage will forever change your perspective on life after a sexual assault. Each chapter Is written by a different survivor of sexual assault.
Professionals, survivors, family members, educators, educational institutions, and the military use the stories throughout Voices of Courage to connect with both the devastation of assault and the strength inside every survivor. You will be go from hard-hitting emotion to moments of a survivor making you smile.
Take yourself and others you know on this empowering journey!
The Date Safe Project 30 DAY GUARANTEE & FREE SHIPPING
is included with ALL orders.

All profits go to organizations committed to increasing awareness of the issues surrounding sexual assault.
Inside
Voices of Courage
Each chapter is written by 12 survivors of sexual assault sharing their personal story of survival told in his or her own words. Whether you are reading the book or listening to the survivors on the CDs, you will quickly notice the survivors in this book represent a truly inclusive group of individuals, including males and females, sexual orientations, race, lifestyles, and geographical locations. The sexual assaults discussed in this book range from child molestation, incest, clergy abuse, "date rape drug" facilitated, acquaintance rape, marital rape, and stranger attack to other forms of sexual assault.
Unlike most books on sexual assault that mainly focus on the horror of rape, Voices of Courage reveals the determination and strength that surviving sexual assault brings to many survivors' lives. You will be uplifted and inspired by the amazing strength these 12 role models live with on a daily basis.
Excerpts from Each Chapter:
"I have found healing in the process. For every time I tell my story, it loses a little bit of its hold on me." Linda, Survivor of Rape by a Serial Rapist
"Tears that aren't shed, return to the soul and remain. Today, I release those tears. I get lighter all the time." Shirley, Survivor of Incest
"When I talk with students about sexual assault, I tell them that men can be sexually assaulted and that if they hadn't ever known of a male survivor, they do now." Ben, Survivor of Rape Induced by Date Rape Drugs
"I still get excited about the little things in life, like I did before you hurt me."
Caroline, Survivor of Acquaintance Rape
"Survivors of sexual assault can and must be heard — through poetry, art, music or public speaking." Karen, Survivor of Spousal Rape
"That is why I became an advocate. This is my fight. I have been featured on television shows and radio shows for one purpose: to stop violence against the vulnerable." Donna, Survivor of Multiple Rapes including Clergy Abuse
"My rape added another dimension to my existence, but it has not replaced all the others, it does not define who I am. I want people to know that I am a regular young woman with a normal life and great expectations." Adrienne, Survivor Drug-Facilitated Gang Rape
"I was tired of feeling sorry for myself and was ready to use my experience to help others." Juliette, Survivor of Acquaintance Rape
"To face that depth of despair is to enter a deep, dark, frightening chasm. But it's worth it, for when we emerge, it is into a place of light and calm. The result of surviving that dark place is an amazing strength." Barb, Survivor of Rape
"I feel whole again." Gabriel, Survivor of Child Molestation
"I am a rape survivor, but there is more to 'survival' than simply coming out of the attack alive. Survival is a process that molds you into the person that you will become. I am very proud of who I am, and I owe so much of that to my family and friends." Cheri, Survivor of Rape by Stranger Attack
"I knew that I couldn't change what had happened to me, only how I would deal with it." Angela, Survivor of Acquaintance Rape
Survivors CD Set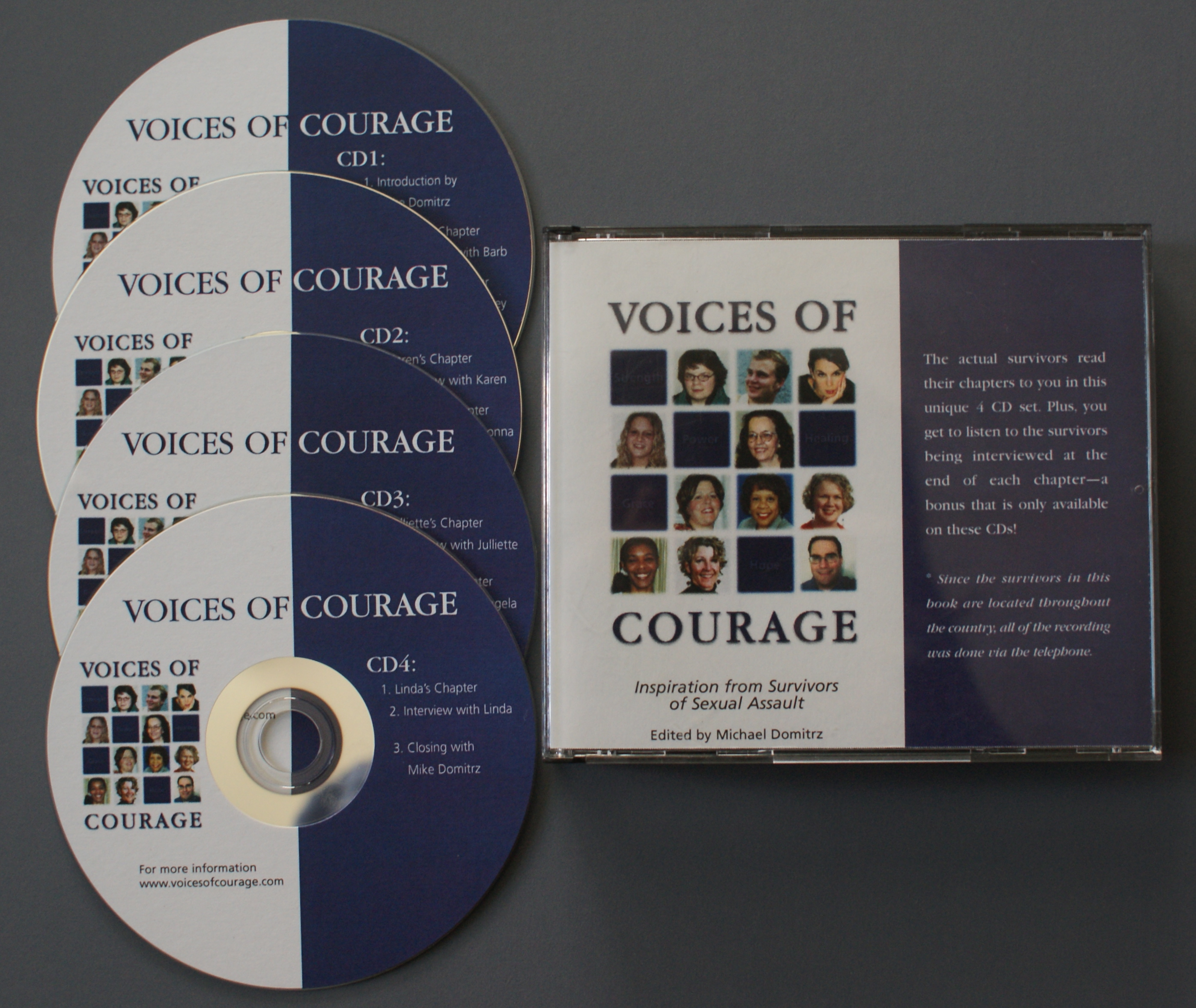 This Voices of Courage 4 CD Set is a defining example of why the voices of sexual assault survivors need be heard throughout our society. This wonderful CD set helps remove the "silence" from sexual assault. You can download all the audio tracks for FREE below.
On the audio CDs and the downloadable audio tracks of Voices of Courage, listeners will hear each survivor from the book read his or her own chapters. Plus, you will get to listen to interviews of the survivors discussing the process of sharing their personal experiences with others. Hearing the actual voices of the survivors sharing their innermost thoughts and memories is a truly moving experience for all listeners.
Since all of the recording for this set was done via the telephone, the sound quality may vary on the CDs. However, the impact of listening to the survivors read their chapters is priceless.
Reviews
Every two minutes in America, someone is the victim of rape or sexual assault. In this informative and emphatic book, we are faced with the tragedy and triumph of victims of this violent crime. Voices of Courage can help us all better understand the trauma that victims experience and ways to help them survive and thrive after the crime."
Scott Berkowitz,President and Founder, RAINN (Rape, Abuse & Incest National Network)
A wonderful collection of diverse victims stories, told crisply and directly, and each with a different message. Many voices speaking through poetry, journals, and stark description of terrible experiences… but more important, recovery from them. In these terrible experiences, honestly told, lies a hidden grace – that of coming to new understandings and finding directions for recovery.
Gary Schoener, Psychologist, Author & Expert on Sexual Violence by Professionals
It doesn't get any more real than this! Voices of Courage tells the stories of victims who have endured the ultimate betrayal to their bodies, minds, and spirits and through the process have moved on to become courageous survivors.
Joyce Arends, MSW, LICSW, New Horizons Crisis Center
Voices of Courage is without question the best book on the market to help others feel on a visceral level what it might feel like to be a survivor. Each chapter is written from the depths of the heart of a survivor who opens her or his world to the reader with a story of pain that ends in hope for recovery and change in a world dominated by rape culture. I was so moved by this book and by the accompanying CDs that I made it required reading for people I train about sexual assault. I play the CDs to keep my employees in One in Four focused on our mission — to end rape. Mike Domitrz has pieced together an outstanding volume of survivor stories that will long be help up as the gold standard in our field. Thank you Mike, and moreover, thank you to the courageous survivors who shared their stories with us throughout this unique volume.
John D. Foubert, Ph.D., Founder of One in Four
Profits Donated — You Are Making A Difference
Crisis centers, coalitions, schools, and organizations throughout the world continue to need the financial assistance of individuals and private organizations to help fund essential programs and initiatives.
By purchasing Voices of Courage, you will be helping efforts to make a difference. All profits from the sale of this book will be donated to organizations which work to raise awareness, educate society, and support survivors of sexual assault. A professional advisory council has been selected by the The Date Safe Project to choose those organizations that will receive the profits from this book.
In addition to the contribution you make in buying Voices of Courage, you can continue to give financial and human resources to the organizations listed on the Resource page. Your giving of time or money can help reduce the occurrences of sexual assault while, at the same time, supporting survivors of this horrific crime.
Media Room
Media Inquiries
Contact Rita Hookstead Toll Free (800) 329-9390
E-mail: media@voicesofcourage.com
The majority of the sexual assault survivors in this book are happy to accommodate requests for media interviews, appearances, and book signings. Best of all, the combination of their diverse and powerful personalities will WOW your audience!
Many of the survivors in Voices of Courage have extensive, prior experience with appearing in print, on radio and TV (including CNN and the "Catherine Crier Show"), and speaking before Congress. If you are interested, you can have several of the survivors appear together in the same interview/show.
Now is the ideal time setup an interview with these incredible survivors. E-mail us at
media@voicesofcourage.com as quickly as possible to schedule an interview with an individual survivor or with a group of the survivors from Voices of Courage. You can download the entire press packet below. If you are looking to setup an interview immediately (need a guest for a show today or an upcoming date), call Mike Domitrz toll free (800) 329-9390.
Press Packet:
General Media Release for Voices of Courage
Meet the Survivors in Voices of Courage
Great Questions For Interviewing Survivors in Voices of Courage
Voices of Courage Entire Book Cover
Voices of Courage Front & Side Book Cover
About the Editor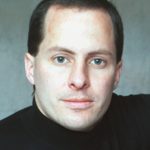 Mike Domitrz, nationally renowned expert and critically-acclaimed author, has devoted his life to educating society on sexual assault awareness. After experiencing the devastation of his sister being sexually assaulted in 1989, Mike was determined to make a difference.
Within two years, he had created and designed his own interactive program – titled "Can I Kiss You? Dating, Communication, Respect, & Sexual Assault Awareness" to educate the public on this important issue. His ability to combine a sense of humor with hard-hitting emotion has made Mike one of America's most sought-after speakers at schools, college campuses, and community events.
As Mike was traveling the country, he continually heard survivors and people of all ages asking, "Are there any great books that share the stories of survivors?" He realized that Voices of Courage was desperately needed and so he began the process of finding survivors from throughout the country who truly represented diverse experiences. He teamed up with the publishing team from his popular book May I Kiss You? A Candid Look at Dating, Communication, Respect & Sexual Assault Awareness to create a wonderful sharing of stories by survivors!
With Voices of Courage, all profits from the book go to organizations dedicated to addressing the many issues surrounding sexual assault.