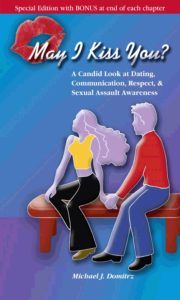 2013 marks the 10 year anniversary of the critically-acclaimed book May I Kiss You? A Candid Look at Dating, Communication, Respect, & Sexual Assault Awareness by our Founder, Mike Domitrz.
Recently national book reviewers took a fresh look at this powerful, life-changing book. Highlights from the reviews included:
Reviewer: Chris Dubey, Hartford Books Examiner, posted at www.Examiner.com:

While he acknowledges the horror of sexual assault, the book generally stays away from vivid descriptions, focusing on logical arguments, easy–to–consider scenarios, and how to positively deal with this difficult issue. . . While the scenarios are geared toward young heterosexual couples, he points out how the material is relevant to all people.

"May I Kiss You?" is a thoughtful, caring look at romantic and sexual relationships and the issue of sexual assault. . . the book will definitely make you think twice about your dating behavior and how to respect your partner.
From Southeastern Illinois, the following review was published last week:
Reviewer: Margo L. Dill, The News-Gazette, posted at www.news-gazette.com

"May I Kiss You? A Candid Look at Dating, Communication, Respect, & Sexual Assault" is a terrific book by motivational speaker and author Michael J. Domitrz.

It's a book for teenagers through adults, for single men and women in the dating world to parents looking for advice to give their dating children.

"May I Kiss You?" is a perfect book to use in a teen counseling group or church youth group. It could also be a great gift for someone you know who is single and dating — at any age.

Domitrz writes in the end of the book, "Violence, disrespect and pain do not belong on any date or in any relationship. Each person can help change the atmosphere toward sexual assault in our culture. With the knowledge and understanding you have, you can challenge the harmful thoughts of others."

"May I Kiss You?" is the first step in doing this.
From Examiner.com: http://www.datesafeproject.org/book-review-of-michael-j-domitrzs-critically-acclaimed-book-may-i-kiss-you/
According to Mr. Domitrz, "people do not notice their own behavior until they are given a new perspective." His book prepares the reader with a healthy way of thinking about dating and offering interesting prospectives by challenging the reader to respond to scenarios and questions.
From Romance Novelist and Author:
Reviewer: Erin O'Riordan, Author & Novelist, posted at www.GoodReads.com  


Everyone should read this book, but it's an especially good one for families whose children are soon to be of dating age, and for organizations that work with children and teens. . .

It's a wonderful resource, full of hope and positivity, and that's why I really can't recommend this highly enough. [click here for full review]