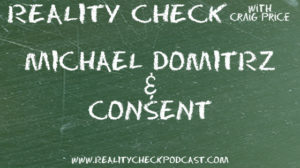 Michael Domitrz (@datesafeproject on Twitter) returns to discuss consent with host Craig Price. With all the news about sexual assault and consent laws in the media, Craig reaches out to  past guest Michael Domitrz to hash it out. Michael explains the importance of consent, open discussions with your partner (or potential partner) and why we need to focus not on how to avoid assault but on how to be a good human being. Meanwhile  Craig laments the fact that not enough men are speaking out on the subject while Michael offers that men should participate in the discussion but not break their arms patting themselves on the back because they do so. The two also discuss how awful internet comments can be!
You can listen to the show & learn more about Craig Price and "Reality Check" here:

http://realitycheck.therealistsguide.com/episode-144-michael-domitrz-consent/?