More for You. Please click on the following links for more info on the "Can I Kiss You?:"
Informational Packet

Download this in-depth 20 page informational magazine by clicking on the image or by clicking here. In this special publication, you will get to read articles, hear from educators, professionals, survivors & students from throughout North America. To have the packet mailed to you, call us toll-free at (800) 329-9390.
Discover more about "Can I Kiss You?" and Mike Domitrz…click on links below
Download PR & Marketing Materials
Keys to Great Attendance!!
Train the Trainers Workshop
Customizing for Specific Audiences
Follow-up Materials from Mike Domitrz
Specials on Books (in Educational Store & Resources)
National & Local Media Expert (in Media & News Room)
Articles Featuring Mike Domitrz
Articles by Mike Domitrz & The Date Safe Project
Mike's Latest Writings (his Blog)
Professional Memberships
Podcasts hosted by Mike Domitrz
May I Kiss You? author Mike Domitrz
Voices of Courage editor Mike Domitrz
Download PR & Marketing Materials
If you are bringing Mike to your campus and need quick access to all his promotional and marketing materials, you will find everything in the links below:
Pledge for Action
Promotional Poster
Fantastic 100 Pack
Head Shots of Mike Domitrz
Pictures of Book Covers (Voices of Courage) (May I Kiss You?) (HELP! My Teen is Dating)
Introduction for "Can I Kiss You?"
Press Releases (upon request)
Keys to Great Attendance
The greatest way to help guarantee great attendance to an event is to work with a professional speaker who is fantastic at creating a "buzz" on your campus and in your community. From giving you fun posters to providing you with a detailed schedule for PR & Marketing Tips, Mike Domitrz works closely with your campus to do everything possible to help raise your attendance numbers. Frequently, his presentation is the highest attended program on campus for the entire school year (and sometimes…EVER on campus)!
How does Mike have such an incredible track record of drawing large audiences? He provides your campus with an incredibly thorough Marketing Package which includes:
8 Pages of Marketing & PR Tips
TableTent concepts and Ads
Press Release for the Media
Sponsorship Ideas
Giveaway Concepts
Headshot of Mike Domitrz
40 "Can I Kiss You?" Posters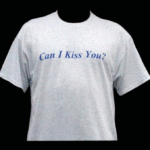 In addition, you can get Mike's popular "Can I Kiss You?" T-shirts for incredibly discounted prices through the special 100 PACK. Faculty, staff, and students love wearing these eye-catching shirts to help promote the program (plus, the shirts include a powerful educational message on the back).
Each idea and concept Mike shares with you has a proven track record of helping increase student attendance. To insure you get the most up-to-date concepts, Mike talks closely with schools to find out which ideas were the most successful so that you only get the BEST marketing and PR results!! Every campus which has closely followed each of Mike's suggestions in his Marketing & PR Tips Report has had overwhelmingly successful attendance numbers.
The best part? Schools constantly remark about "How easy Mike is to work with." He truly will do everything he can to help you and your campus have an amazingly successful event. You get it all — a detailed professional who loves working with each campus to make the day a wonderful experience for everyone!!
Train the Trainers Workshops
Train the Trainers with Mike Domitrz reveals a refreshing and powerful format to teaching leaders how to facilitate thought-provoking conversations on peer education and/or sexual assault. A welcoming and positive atmosphere is fostered where each trainee discovers how to take a simple approach to tough questions from students.
In this customized workshop, You will discover how to handle difficult situations with students — including how to discuss "both sides" of students' concerns. You will learn the secret to creating a balance of careful and effective use of humor verses hard-hitting questions. Attendees will be challenged as to "how far" you should go to intervene in the day-to-day situations that can occur.
Throughout the seminar, everyone is encouraged to ask questions and debate the concepts being discussed. At the end of this incredibly interactive 45 minute session, your leaders will leave excited and equipped with the tools to make a powerful impact on your campus and in your community.

Plus, your campus can receive Mike Domitrz's May I Kiss You? book for everyone at the session for the incredibly low price of only $8 per book (when 100 books or more are ordered). Students and leaders can utilize the over 20 interactive exercises found throughout this critically-acclaimed book. Mike Domitrz is the only expert who gives campuses such an amazing package of programs, expertise, and educational resources!! Call (800) 329-9390 to bring Mike to your campus.
Customizing for Specific Audiences
Mike Domitrz is known for his ability to tailor each presentation to the needs of the students in attendance and within the framework of the campus's standards. If your school has a unique culture or you would like Mike to present his program to a very specific body of students (Athletes, Greek Life, etc…), Mike will discuss all of your needs and wants — prior to his arrival at your school. Below are just a few examples of the audiences Mike customizes his program for:
Religious Institutions
Non-Traditional Students
Greek Life (Fraternities & Sororities)
Athletic Departments
Residence Life
RELIGIOUS INSTITUTIONS
One of the most common concerns for some religious institutions is whether certain sexual assault programming is appropriate according to their school's beliefs and policies. Mike's presentation is recommended by campuses of all religious standards (from the most liberal to the most conservative). Why? Mike's entire approach is built around respect for one's self and your partner. With regards to language and content, his program is considered one of the "cleanest" shows in the country. At the same time, he is one of the most entertaining and educational speakers in the college market! For this reason, Mike is highly sought-after by religious universities!
NON-TRADITIONAL STUDENTS
The concepts shared by Mike in his programs are applicable to all levels of relationships (from a 1st date to a couple who has been married for over 20 years). With Mike being a working husband and father of 4 boys, non-traditional students relate to him and appreciate Mike's honesty on communication, respect, and healthy relationships — including marriage.
GREEK LIFE
Fraternities and Sororities rave about Mike's entertaining and interactive approach. Greek Life students are frequently mandated to attend a certain number of sexual assault awareness events. In doing so, they often expect the presentations to be filled with boring statistics. Mike surprises them by using no statistics and by talking to each student as an equal. First, he gets them laughing and then he gets them to create positive change on their campus.
ATHLETIC DEPARTMENTS
As a state championship coach and a collegiate athlete himself, Mike has a special talent of connecting with athletes. Instead of lecturing, Mike talks with athletes in a language they understand. He provides them with practical solutions and simple skills needed for each person to make positive changes — in their own life and in the lives of the people around them. He inspires athletes to take action that will create a safer community….while at the same time greatly improving the image of the athletic teams on campus. Be sure to call 800-329-9390 to ask Rita about potential funding sources for campuses who have athletes attend the program.
RESIDENCE LIFE
Mike Domitrz works closely with your Residence Life department to create a tailored workshop for all levels of leadership (from Administration to Resident Directors to RAs to your residents). He will challenge your leadership to evaluate how they address healthy dating issues and how to build the most supportive atmosphere for survivors within your halls. His program is continually a hit at ACUHO-I's International Convention each summer and has been written about in "Talking Stick."
Follow-up Materials from Mike Domitrz
After you bring a speaker to campus, do you wish you had more opportunities to continue the lessons learned in the presenter's programs? Mike Domitrz, in conjunction with The Date Safe Project, has created a new line of posters that are both eye-catching and educational. "Do You Ask?" is the theme of this innovative campaign that teaches students "The only way you can absolutely know what your partner wants is by asking first!" Check the popular posters here!!
In addition the powerful line of posters, you can utilize both of Mike's books (May I Kiss You? and Voices of Courage) to continue the lessons and skills shared throughout the day by Mike. With the 100 PACK, your campus can get everything for a fantastic price. Click here to learn more!
What is The Date Safe Project? In addition to his speaking and writing, Mike Domitrz founded and is currently the Executive Director of The Date Safe Project. Through interactive presentations, educational resources (posters, buttons, etc…), and national initiatives, The Date Safe Project is committed to being the nation's leading organization for teaching why "asking first" is the key to building a better understanding of consent and to raising awareness of the many issues surrounding sexual assault.
Articles Featuring Mike Domitrz
Below are articles written by campus newspapers, local media and national publications featuring Mike.

Janie Terrazas, host of MUN2's Television Show "Off the Roof" "Your advice and comments were very insightful. I appreciate you taking the time out to talk with us that evening. I will be sure to continue to tell people about your book. I wish you lots of luck and if I ever need advice, I will contact you. Take care."
Articles by Mike Domitrz & The Date Safe Project
Below, you will find articles and press releases addressing various issues regarding healthy dating and sexual assault awareness. To obtain permission to reprint any or all portions of the below articles please contact us here.
Click below to read more…
Articles Written by Mike Domitrz & The Date Safe Project
May I Kiss You? Do Your Kids Ask? Parents Teaching Respect & Healthy Dating
Articles Quoting Mike Domitrz
"May I Kiss You? Talk To Your Teen About Date Rape" (www.teenagerstoday.com, April '04)
"First-Date Body Language — Decoded" (MSN Dating & Personals, Spring '05)
"The Girly Guide" (www.preteenagerstoday.com, Nov '04)
"20 Ways to Avoid 1st Date Disasters" (Complete Woman, Jan '04)
"Boy Basics 101" (www.preteenagerstoday.com, Dec '03)
"Kobe Case Serves as Lesson for Pro Athletes" (Houston Chronicle, Oct '03)
"How Parents Can Help Their Teens Through the Dating Years" (Style Weekly, Sep '03)
"Kobe Case Disturbs Survivors of Rape" (Grand Junction Sentinel, Aug '03)
**To submit an article to be added to this page, please e-mail us the article, the source of the article, the author, and the contact information for the author (if not the contact information for the author, then the contact information for the source of the article) to href="mailto:Info@datesafeproject.org">info@DateSafeProject.org.
News Stories on Dating & Sexual Assault
Rape Crisis Figures Published in Ireland
Mike's Latest Writings (his Blog)
Join students and professionals who are staying up-to-date with Mike Domitrz and his latest writings. Sign-up today for his e-newsletter and continue to read his thoughts at his internet blog (online journal).

Mike's email updates are sent out weekly. He shares stories from around the country, lessons from schools, and much more. To get your first edition, click here and begin reading today.
Individuals, educators, and professionals around the world are visiting Mike's brand new forum for sharing and staying in touch — his BLOG. Readers love his honesty and his engaging style of writing. Don't miss out.
Professional Memberships
Mike Domitrz is proud to be a member of several state coalitions against sexual assault, ACUHO-I (Residence Life), an active attendee of BACCHUS & GAMMA, and an member of the National Speakers Association.
Podcasts hosted by Mike Domitrz
To Download: If you use iTunes, clicking the iTunes graphic on the right is the best way to download. By doing so, each future show will automatically be downloaded directly into iTunes (always providing you the most up-to-date broadcast).
For: educators, professionals and experts who address the many issues surrounding sexual assault, consent and students.
Details: 30 minute bi-weekly show during the school year featuring interviews of top experts and professionals; success stories from schools; thoughts from listeners; and much more. Hosted by Mike Domitrz.
Latest Broadcast: Listen as Ben Atherton-Zeman opens up on how he uses the media and entertainment industry to create important educational lessons. In addition, hear how he got started. Find out how Leigh-Anne Royster has helped to create an incredible program at Elon University. Then, listen to a high school student from Oregon share her success. Plus, 2 big pieces of news.
Guests:
1) Ben Atherton-Zeman, Creator of "Voices of Men" at www.voicesofmen.org
E-mail: benazeman@hotmail.com
2) Leigh-Anne Royster, Director for Personal Health Programs at Elon University at www.elon.edu
E-mail: lroyster@elon.edu
SPEAK OUT: Share Your Thoughts & Feedbackck (click here)
Bring the "Can I Kiss You?" Program to your community. Call now to receive a special 20 page informational magazine and to find the best remaining dates available. Toll Free 800-329-9390 or click here to email us.

More for You. Please click on the following links for more info on the "Can I Kiss You?:"