Jessica Pettitt is the "diversity educator" your family warned you about. She is easy to work with, accessible, and brings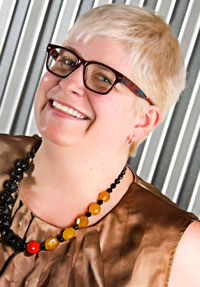 VERY simple concepts that are really hard to incorporate into our lives.  Where Gandhi may want you to Be The Change You Want To See In The World, Jessica asks for you to actually Be the Change You Want To Be, not just see it.
She has been nominated for two years by Campus Activities Magazine for Best Diversity Artist. Her programs take participants on a journey weaving together politics, theory, current events, and story telling with large doses of humor reminiscent of Bob Newhart, George Carlin, and Paula Poundstone. Participants leave her highly interactive program with actual action steps to make REAL change in their lives.
Jessica takes 10+ years of experience to stage as part of her mission to inspire change, dismantle oppression, and recognize our privilege. Jessica has figured out how to BE the change she wants to BE. Now it's YOUR turn!
You can learn more about Jessica's programs at: http://iamsocialjustice.com/index.htm
Listen to the recording now: