Lydia Davey is an entrepreneur, author, and motivational speaker. She served as a U.S. Marine for eight years – deploying to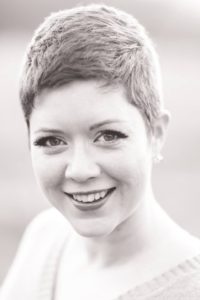 Afghanistan in 2006 in support of Operation Enduring Freedom, and working extensively throughout Africa, Asia, and Europe. In 2013, she founded Moriah Creatives PR; a fee-only public relations firm that provides small businesses with fresh, intelligent ways to connect with their clients.
Lydia is committed to using her talents to accomplish good. Her passion projects include the publication of a book about a homeless veteran and his two pets (The Adventures of Puppi & Burma), sitting on the Board of Directors for http://www.teebo.org/, and her latest project: Finding Hope: An Art Exhibition.
Finding Hope: An Art Exhibition is a traveling art show of art created by survivors of MST (Military Sexual Trauma).  Lydia shares how she hopes this will influence changes in the way sexual assault is handled in the military and everywhere by bringing awareness to this widespread issue.
Lydia currently lives in San Francisco. She loves snowshoeing, coffee, cold-weather camping, and promoting ideas that bring life, color, justice and creativity to the world. You can follow her on Twitter, and make a connection at LinkedIn.
You can learn more about her latest project and how to help at: http://crowdhitch.millennialtrain.co/campaign/detail/2415
To learn more about Puppi & Burma go to: http://www.puppiandburma.com/