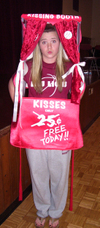 Frequently, schools promote the "Can I Kiss You?" presentation by having Kissing Booths on their campus the days before the program. These "Kissing" Booths do not involve anyone receiving a kiss through physical contact. Instead, the people in the booth hand out Hershey KISSES to students who approach them. The kisses will often have a piece of paper attached promoting the presentation (time, place, etc…).
At Loyola Marymount University in Los Angeles, they took the "Kissing Booth" concept to a new and exciting level. By going to a local store, they were able to get a customized MOBILE Kissing Booth to utilize on their campus throughout this week. The booth is extremely lightweight and easy to wear. Plus, it was very reasonably priced. Ah what a little ingenuity will do!
Because the athletics department was the main sponsor of my visit, various athletes took the job of "Standing" up for "Asking First" in the kissing booth. Thanks to all the athletes and the entire staff at LMU for using your creativity to help make a difference on your campus.