This is the second part in our two part series "The Life of a Speaker." You can check out the first part here.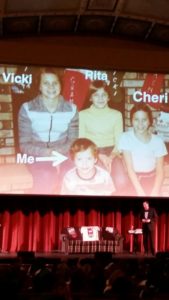 The next morning we drove to Wilfrid Laurier University and were in an AMAZING venue. It was an older theater that the University had rented out and the perfect venue. The acoustics were great, they had air conditioning (even though the temperature dropped to 60 and it was raining.) The hosts were awesome as well. During our down time, I got to try Tim Horton's for the first time. (Thanks Chris!)
The students at Wilfrid Laurier were really energetic! They were really excited during Mike's presentation and the participation was off the charts. This was also the first presentation I saw that we were able to use our power point presentation. Mike uses a lot of personal examples, from a family picture of him and his sisters to a picture of him and his wife at the end of the presentation. (Which always gets a huge pop from the crowd.) The energy in the crowd was infectious, and I walked out of there forgetting that I had gotten up at 5am that morning. The energy lasted until I got back to my car and saw a "parking infraction" ticket. Apparently, we had stayed 15 minutes too long… But it was still a great time.
We were both pretty exhausted from the heat the two days before, and the fatigue was beginning to show. Lunch was pretty quiet, but it was great! Another locally sourced menu with a ton of fresh ingredients. After lunch, we headed to the next venue. The drive was about two hours, and we were going to University of Western Ontario.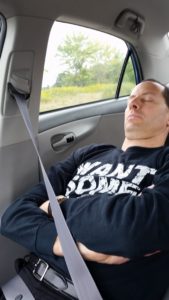 Mike had been multitasking the entire trip. My driving allowed him to get a lot of things done. He was able to hold meetings, read and catch up on work and also take a nap every once in a while. See, Mike doesn't normally travel with anyone. If he has to travel two or three hours to get to a venue, he is the one driving. On super rare occasions he hires a car and driver, but those are completely out of necessity only.
We arrived at the University of Western Ontario, and we had about 90 minutes to kill before we had to actually be there. We couldn't check into the hotel, because the hotel was back in Toronto and about an hour and a half away. Mike said that this sometimes happens and that the best thing to do was find some WiFi and get some work done. There wasn't much to see in the town, but we found a Tim Horton's and Mike took the time to catch up on emails. It was weird sitting there, receiving emails from the person right across from you. I found it so funny that I burst out laughing in the restaurant. This is what four hours of sleep a night for the past four nights can do to a person. I honestly don't know how Mike can do this type of schedule sometimes. This so far had been an easy trip for him. He was in the same general area for more than a day, which really never happens.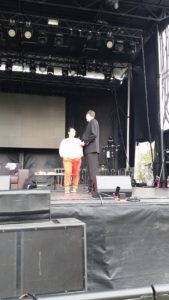 Showtime. Western Ontario was the most rock star of the venues we had been to. Literally, the venue was a rock stage the night before! And not only was the stage a rock star stage, Mike had a trailer! As awesome as this show was, it was more of a typical set-up for Mike. He did the sound check, and afterwards we joined the staff for dinner. Over dinner, Mike talked to some students that had been inspired by Mike's message from years past. After a wonderful dinner, Mike and I returned to the stage so he could get ready to present.
I made my way to the crowd to get some great pictures, and the venue was already half full.  This was definitely the biggest crowd we had our entire trip, and the crowd really into the show! Mike got a huge pop when he came out on stage and the energy never left. People were jumping up and down to answer questions, cheering, laughing and also really getting the message.
It was very inspiring to finally get to see what a week on the road was like. I usually sit from the comfort of my own home playing Tetris with Mike's schedule. Life on the road is tough. I was homesick after the second day, and it was made worse by the fact that I could not call my husband because I didn't have international calling. I could not imagine being away from my family for 120 days out of the year; yet this is exactly what Mike does.
Life on the road is also incredibly lonely. It was drive, venue, hotel, repeat. I can see why Mike likes to have dinners with friends and his contacts on the road. Mike also enjoyed talking to the students after each presentation. He stayed and talked to each student, even if it meant losing an hour of sleep out of an already short night.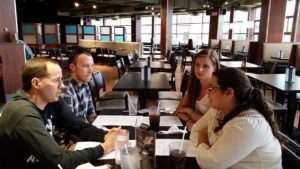 We were lucky on this trip; we were able to find good, healthy food. Healthy food is very important to a speaker; they expend so much energy on stage that they need fruits, veggies and lean items to eat. On my way to Niagara Falls, I had to eat some fried food. I felt gross and tired and I felt my energy level drain. There are times when, as a speaker, you are in the middle of rural somewhere with an unhealthy fast food joint as your only meal option.
So, why does Mike put himself through this year after year for almost 20 years? I was finally able to observe it. Mike's sister was raped and it changed him. He didn't set out to be a speaker; he didn't wake up one morning and say that "yes, this is what I want to do." When his sister was raped, he knew he needed to do something to help. He needed to stop this from happening to other people. He understood how it could be stopped; through respect and consent in relationships. It was so simple and yet one of those things that people just don't get until someone tells them. Mike does this because it is his passion, and this passion drives him speak in 100 degree weather, to dodge raindrops between sessions, to drive three hours roundtrip and to be away from home for almost half a year.
I got to see him talk to the students after each presentation. He would be completely drained from his talk and yet he gave those students the same energy as he had during his presentations. He had dinner with students interesting in pursuing careers in prevention and advocacy instead of catching a much needed hour of sleep. I was thoroughly exhausted after this trip. I had to take the next day off to recover, and I work from home! Mike doesn't get to do that. The next morning, he flew off to Georgia to give an afternoon presentation to reach even more students with his message.