Hello everyone! I am Jo Jones, Director of Initiatives with The DATE SAFE Project. I am taking over today's blog post for a different kind of blog. Each week, we hear from Mike Domitrz about different topics related to consent, respect, bystander intervention, how-to skill sets for making positive, respectful choices, and other serious topics. Mike does some amazing work, but I don't think people realize just how amazing the work truly is. For every presentation and training that Mike gives, there are many hours of being on the road, setting up for the shows and countless other things that we don't even think about. I spent one week on the road with Mike, and this is what life is really like for someone who travels 120 days out of the year.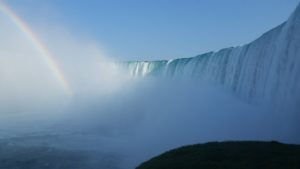 My journey started off a little different than Mike's did. Typically, Mike flies everywhere. He has expressed to me on several different occasions that he would rather fly than drive. I, on the other hand, would seriously consider major surgery without anesthetic rather than flying. I would fly if I had to, but thankfully in this case I had a vacation to Niagara Falls scheduled so it made more sense for me to just drive into Toronto. (By the way, Horseshoe Falls is a very beautiful place that everyone needs to see at some point in their lives.)
I picked up Mike from the Toronto Airport around 11am that day. Fifteen international flights arrived within one hour of each other, and I expected that it would take him at least two hours to get through customs. Apparently, there is this program called the Nexus Program that allows frequent travelers to fast track their way through security so Mike was out in less than 30 minutes. We were on our way to our first stop, which was about an hour away.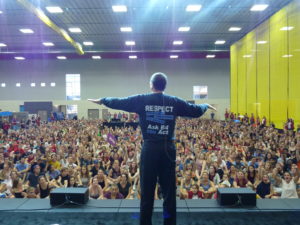 We checked into our hotel in Guelph, Ontario and had about three hours to kill. Mike said having this much free time was very unusual, which I would find to be true in the next few days. The cool thing about Canada is that it has a lot of socially conscious and locally-sourced restaurants. Both Mike and I try to eat as healthy as possible so this was very welcome when we found a super healthy restaurant literally across the street from our hotel. In America, where Mike does the majority of his speaking, it is harder to find restaurants with healthy options. (More on that later.)
We arrived at the University of Guelph around 4:00pm. Mike was speaking in a very nice temporary gym structure. It was massive and it had no air conditioning. It was also the hottest day of the year so far for the area. The temperature was 35 degrees Celsius, which sounds a heck of a lot nicer than 96 degrees Fahrenheit, but unfortunately it still feels the same. Mike was scheduled to give three presentations to 1000 students each – with only 15 minutes between each presentation. As the groups filed in, the temperature kept rising. Mike decided to give his presentation with his suit coat off. If you have seen Mike before, you know his jacket is part of his signature look. However, given that he went through at least six bottles of water throughout the presentations, I think this was a wise choice.
The next day, we were on our way to York University. York was going to be our biggest audience with over 6000 participants. It was being held in an outdoor tennis stadium (the one Serena Williams had just played in a few weeks before.) It was also the second hottest day that Toronto had seen so far that year. Mike was part of the opening ceremony for the incoming students. He would be going on right after the convocation.
However, due to the extreme heat and concerns over students' health, several Orientation Leaders had their groups leave to get out of the sun. Out of a crowd of 6000, suddenly the stands had less than 1,500 students left in the arena. Mike had to think quickly, and instead of giving the presentation from the stage he went out onto the floor so he could be in front of the students. In fact, he moved all the students in the stadium into the shaded section and thus had everyone safely in one area – that also created a more intimate setting. We worked quickly to shift the stage, and I am quite impressed that we did it very seamlessly. The students who did stay were very active in the presentation and really enjoyed it. Soon, more and more students were filtering back into the stadium. By the end, the attendance had doubled. Mike also got to do something that not many speakers get to do; he got to finish his presentation in a rainstorm. Yes, we went from extreme heat to rain during the program.
We got to the hotel that evening and discovered that we were actually booked at a hotel that was farther away than we thought. The university we were going to the next day had two campuses about an hour apart. We were booked near the campus Mike WASN'T speaking at. I generally recognize only one 5 o'clock, and it wasn't the one that I had to get up for the next day. Mix-ups like these happen, so we needed to adjust our schedule and just go with it.
This is where it really gets crazy! Be sure to check back next week for the rest of the story!