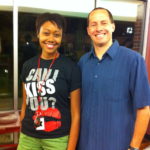 Tonight, Lake Forest College made a commitment to asking first.  In fact, they threw a challenge out to those who DO NOT ASK FIRST.  Altogether, they chanted, "I  Pity the Fool Who Doesn't Ask First" (yes aka The "A" Team).
In the picture to your right is Barbie – a Resident Assistant at Lake Forest College.  Before the main "Can I Kiss You?" presentation, the RAs and I met for a "Train the Trainer" session.  The group was very open-minded to new ideas and you could clearly see their passion for wanting to be great leaders for their residents.
Patrick, thanks for making each aspect of today run smoothly!!  ENJOY the video below of all the incoming students "pitying the fool."  LEAVE A COMMENT below and I will personally respond!

Remember to Leave a Comment Below!