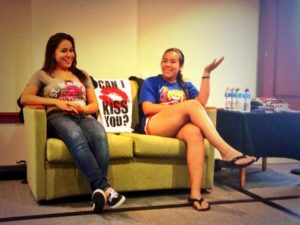 Unlike many educational presenters, our Founder, Mike Domitrz encourages audiences of the "Can I Kiss You?" Show to TURN THEIR PHONES ON to tweet throughout the presentation. What occurs in the Twittersphere can be both entertaining and inspiring.
If you are ever doing educational programming, give it a shot. Create a simple hashtag your attendees/students can use. When the program is done, review what was being said. You can learn a lot about what information is being absorbed.
Below are several recent tweets from students in the "Can I Kiss You?" show – each from a different person. Which one is your favorite and why? SHARE IN THE COMMENTS SECTION below:
As a survivor, I finally found a seminar that doesn't just make it sound like I'm a victim but a stronger individual. Thank you
Finally a show that is direct about sexual assault while making it easy to understand how to help survivors and in situations
Probably the most important stuff I've ever learned, and yes, I went to school for 12 years.
"What would you love for me to do for you in bed tonight?" Sleep. I'm saving myself for marriage. #HOLLA
Every survivor of sexual assault is an amazing individual.
Walking away knowing it wasn't my fault.
This presentation changed my life. Thank you so much for coming to my school and empowering me and my peers
I've learned to respect women even more than I already knew!
So not only are both Ryan Gosling and I drop dead gorgeous, but we both ask first!
Getting asked to be kissed is cute tbh
I AM AWKWARD AND THAT'S OKAY!
It's okay to say no!
feelin frisky? Ask first, then respect the answer. Be mature about it.
You are strong, you are amazing, you are a survivor not a victim, you are respected
REMEMBER to SHARE YOUR FAVORITES IN THE COMMENTS SECTION below.