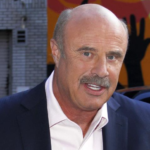 Have you seen any of the discussion and reactions to a Tweet Dr. Phil McGraw sent out in advance of an upcoming episode of his TV show discussing sexual assault and alcohol? Out of respect for survivors of sexual assault, we are not reposting the tweet in this article. You can always find it with a Google search.
The show has since released an apology sharing how upset Dr. Phil was that the tweet went out and the damage it could have done. Their statement also reinforced that anyone who is incapacitated in any manner cannot give consent – which we certainly are happy to see them state unequivocally. The statement said that the tweet was for "data gathering" purposes only and they do acknowledge it was still wrong.
3 quick observations:
The tweet did reference a girl being drunk. Why ask about a GIRL being drunk? Sexual assault happens to all genders. The focus should have been on if a PERSON is drunk.
Here would have been a more appropriate tweet: "On next episode, see how alcohol-facilitated sexual assault happens every day" or "Are you aware of all the ways alcohol-facilitated sexual assaults occur across the country?"
There is a chance Dr. Phil did not send that tweet. His staff may have tweeted for him. When you wear multiple hats in your organization, you often have team members who help with communications. Unlike many celebrities in the past, Dr. Phil did not pass the blame onto a staffer or someone else. He did accept responsibility which is certainly appreciated.
What Next?
We hope Dr. Phil helps make a positive impact with a powerfully educational show (or multiple shows). In addition to an apology, more important becomes how the show he airs addresses sexual assault and honors survivors. Hopefully, he and his producers will address the issue with utmost respect for all survivors and they do not result in victim blaming or following rape myths.
We are joining the voices of many individuals and organizations throughout the country asking for the Dr. Phil show to do an upcoming episode honoring survivors.