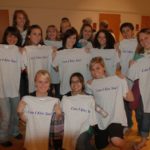 Every year, Gustavus Adolphus College in St. Peter, MN does an AMAZING job drawing a HUGE audience at the "Can I Kiss You?" show (1/3 of their students) – including a line outside the doors which starts over 3 hours before the show (see the pictures posted farther down the page)!  Their student body, staff, and administration show a complete commitment to reducing sexual assault, increasing healthy relationships, encouraging bystander intervention, and SUPPORTING SURVIVORS.
By purchasing the 100 PACK (100 "Can I Kiss You?" shirts), Gustavus Adolphus advertises the first 100 students will get the shirts for FREE. After multiple years of running this promotion, students WANT the shirt because it is a known IMPACT on their campus.  This is one of the main reasons the line starts over 3 hours before the presentation and goes outside the building.
A huge thanks goes out to everybody at Gustavus Adolphus College. Each year, you make speaking at your school a blast! Thank you for all the work and dedication each of you puts into making the event a spectacular success.  Enjoy the pictures and video below.
SPECIAL PRIZE!! Gusties, I forgot to tell you how to get the SPECIAL PRIZE tonight.  Text to 80565 the following 2 words:  the word "college" and then your email address (put a space between the word "college" and your email address).  Then hit SEND.  You'll receive a BONUS surprise in your email within 30 seconds!
Below is the video AND lots of PICTURES from tonight!  REMEMBER to share your thoughts in the FORUM here on our site!
[nggallery id=9]