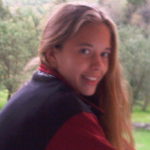 School: St. Lawrence University

Involvements:
Member of Omnicron Delta Kappa
Member of Psi Chi
Dance Ensemble Secretary & Treasurer
Swing Dance Club Co-President
Advocate against Sexual Violence
Advocates Program AWARE Training Co-Coordinator
Member of International House
Volunteer at Renewal House (local domestic violence shelter)
Go Beyond Director (Spring 2009)
Horseback Riding Lessons (local and on campus)
Contributor to The Purple Ribbon: The Advocate's Program Newsletter
SLU Buddies (Fall 2007-Fall 2008)
What you LOVE about your work as a student leader: The thing I love most about working to end violence against women is that I know I am making a difference, even if it is only in my little corner of the world. I can see it in how people change their behavior and I have experienced it when I reached out to an Advocate for help when I was sexually assaulted. So each time I speak to a survivor directly or I train new Advocates or we put on a show to spread awareness, I know that I have helped someone to heal or opened someone's eyes. My hope is that they will share what they have learned or been given and violence prevention and awareness will spread beyond my reach.
The reason Anne was nominated: When our director took leave last Spring, I stepped up to take over some of her duties on top of the position I already held: AWARE Training Co-Coordinator. I did this for the same reason that I love working to end sexual violence – I know I can make a difference. The Advocates Program is very important to me because we are a key part of the healing and the education process surrounding sexual violence. I was sexually assaulted as a freshman and was grateful to be able to turn the the Advocates Program; The support I received helped me to do a great deal of healing and taught me how to help others. If this program did not exist or was left unattended, many individuals would not be able to get the help they need. I want survivors to always know that the door is open, keeping the Advocate's Program alive without a director was the best way I knew how to do this.
What are your goals? My general goals with the Advocates Program are first and foremost to continue to provide safe, supportive advocacy for survivors of sexual violence. Also, I want to continue to educate students and faculty alike at SLU so that they may pass on the knowledge we have given them and work towards ending sexual violence. Thirdly, I think it is important to correct the language that we use and practice non-offensive speech; too often sexually violent terms are used loosely or in jokes which can be very damaging to survivors, I would like to transform our culture into one which does not find sexual violence amusing. My personal goal is to work with high school or college students as the director of a program so I can work to spread my passion and my ideas.
Favorite Movie: 'Pay it Forward'
Food I Dread: Clams (they always leave sand in my teeth)
Favorite Place I've Visited: Vienna, Austria
What Would Be Your Superher Name? Serendipity