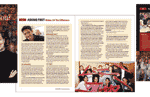 Download this in-depth 20 page informational magazine by clicking on the image above or by clicking here. In this special publication, you will get to read articles, hear from educators, professionals, survivors, & students from throughout North America. To have the packet mailed to you, call us toll-free at (800) 329-9390.
Download PR & Marketing Materials
Below are all the promotional and marketing materials for you to use on your campus.  You can download each file and instantly have them available for use.
* "Pledge for Action"TM
* Promotional Posters
* Fantastic 100 Pack!
* Head Shots of Mike Domitrz
* Pictures of Book Covers
* Introduction for "Can I Kiss You?"
* Press Releases (upon request)