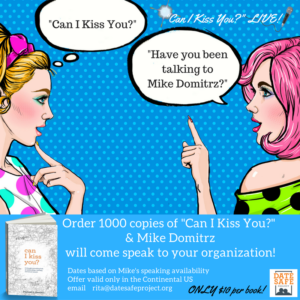 Thanks to everyone getting the word out, with just a couple of weeks on the market, the "Can I Kiss You?" book is starting to take off! The team at The DATE SAFE Project is so grateful for your support! WE are making a difference!
Because of you we have achieved not one, not two…but THREE bestseller categories on Amazon:
#1 Teen Young Ault & Dating
#1 Dating & Intimacy
#1 New Release in College & University Student Life
To keep our momentum going, if you are planning to buy the book, this would be a great time to do so, especially for as a back to school gift for the students in your life. In order to be fully transparent, early sales are a huge help to our rankings, which is what drives getting this important message out to the world.
Second, The Kindle version of the "Can I Kiss You?" book is FREE right now on Amazon and will be through Friday the 26th! Click HERE and get yours now and tell a friend.
Last but not least, because you know we love to find as many opportunities as possible to spread the message that has become a movement (thanks to you), we are introducing:
"Can I Kiss You?" LIVE!
When your organization purchases 1000 "Can I Kiss You? books through our website HERE, Mike will personally come and speak to your organization at no additional cost. That's right, we will get him on a train, plane or automobile so he can personally deliver the "Can I Kiss You?" message to your organization. No speaker fees, no travel or expense reimbursement….just… "Can I Kiss You?" LIVE!
Oh, and to keep this really fun and valuable, when you purchase 1000 copies, your cost is only $10 per book instead of the retail price of $15.95!
Let's keep this short because I know you are busy…
If you are interested in learning more, email Rita at Rita@datesafeproject.org. This promotion is only available in the Continental US and is subject to Mike's availability. That simply means, we will make it work…but we will have to coordinate our calendars. Books must be purchased through The DATE SAFE PROJECT HERE.
P.S.
We have other discounts for buying in bulk via our website:
10 Books = $15.00
25 Books = $13.50
100 Books = $11.00
1,000 Books = $10.00 + "Can I Kiss You?" LIVE!
With love and gratitude,
The DATE SAFE Team
800-329-9390