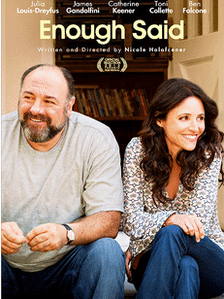 This weekend, Karen and I went to see "Enough Said" featuring Julia Louis-Dreyfus and James Gandolfini (who passed away earlier this year).
POTENTIAL SPOILER ALERT
Please know that what I'm about to share is not a major spoiler to the movie. However, if you do not want to know ANYTHING about a movie before you see it, then you will not want to continue reading.
The movie dives into many issues surrounding relationships including divorce, parenting, empty-next concerns, trust, boundaries, and the movie MODELS CONSENT.
Early in the movie, Albert (the character James Gandolfini portrays) goes in for a kiss withOUT asking first. The moment is especially awkward because Eva (the character portrayed by Julia Louis-Dreyfus) is not comfortable with the intimacy yet.
Later in the film, Albert ASKS FIRST and Eva is happy to say, "Yes."
The lesson: when you WANT to kiss someone, asking is is fun, warm, and inviting (ie sexy and passionate). Most important, asking is how you give your partner a choice and thus respect.
Have you seen the movie? WHAT DID YOU THINK?