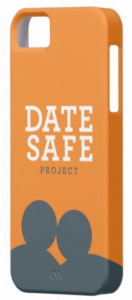 To win the customized iPhone case you see to the right, SHARE in the COMMENTS section below how The DATE SAFE Project, our resources, and/or the "Can I Kiss You?" program has either helped or impacted your life.
10 People will be selected to receive the iPhone 5/5s case.
Over the past year, Mike Domitrz has continuously been asked by students, educators, and audience members who see his phone, "How do I get one of those cases for my iPhone?" Now you can win one or purchase one at The DATE SAFE Project online store by clicking here.
SHARE BELOW for your chance to WIN!!