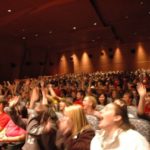 Wow! Tonight at Washington State University in Pullman, WA, the students packed the house soo tightly for the "Can I Kiss You? " program they had to remove people from the standing-room only!! Way to go, WSU!!
Tonight was one of the highest energy audiences of the semester.  They were FUN, interactive, and passionate.  You can see the commitment audience members were making to creating positive changes in their lives and in the lives of others. Thanks everyone!
Earlier in the day, we did a "Train the Trainer" session for Peer Educators, community advocates, and the Residence Life staff.  They asked some great questions.  Their dedication for helping the RAs and residents on their campus was evident throughout the program.  Coree, you and your staff did an outstanding job planning for today and with making both events extremely successful.
Here is your VIDEO AND PICTURES from the event:
[nggallery id=11]