On this page, DISCOVER:
#1 for Single, Committed, & MARRIED individuals!
As you know, finding an educational and engaging program for the men and women on your installation can be difficult because you have single individuals, people in committed relationships who are not married, and you have married couples.  One of the best aspects of the "Can I Kiss You?" program and Mike Domitrz's approach is "Asking First", "Opening a Door," and "Being a Friend" works no matter what kind of a relationship you are in or are not in. Why?  Because INTIMACY can occur in each situation (single or married).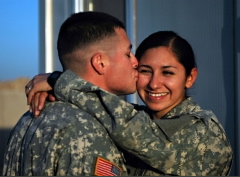 Mike's upfront approach enables and encourages the men and women in the audience to ask more detailed questions.  Thus, giving individuals great opportunity to dig deep into their own situation and explore the exact application of respect, asking first, and supporting survivors in their specific lives. No other program addresses this unique diversity which exists in every audience.
Time and time again, military men and women say, "Thank You" to Mike for creating an open and honest atmosphere which included everyone (single or married).  Ironically, such appreciation is shown from both singles and married couples – both groups often feel other presentations tend to only speak to one of them and not the other.  "Can I Kiss You?" breaks that perception barrier and brings everyone into the conversation!
PARENTS, Their TEENS, and the Schools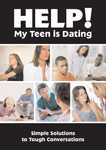 Family life has one of the biggest influences on the men and women in our military.  Providing useful and insightful resources which can give our military members with teenagers real solutions to challenges in their home leads to more focused & well-rounded military members.
The HELP! My Teen Is Dating.  Realistic Solutions to Tough Conversations seminar is changing the way parents and their teenagers are approaching, discussing, and handling decision-making regarding dating, intimacy, and parties.
In one hour, parents will discover several simple steps to effectively engaging their teenagers.  Best of all, the lessons are designed to be flexible to the personality of EACH TEENAGER in a family.  As you  are aware, no one solution exists for every teenager or for every parent.  Each child, parent, and family is different.  In this interactive program, you will laugh, learn, and be inspired to take immediate action upon getting home.  Mike Domitrz will even give you a few tips to help get the conversation rolling – without your son's or daughter's eyes rolling back at you.
**This workshop is based on Mike Domitrz's award-winning DVD by the same title.
SCHOOLS (DoDEA and local schools)
Middle schools and high schools fully understand how important discussions on respect, boundaries, healthy dating, intervening with friends in difficult situations, and addressing sexual assault is for their students.  The "Can I Kiss You?" general assembly for middle schools and high schools is one of the most sought-after programs in the United States.

As you may be aware, DoDEA schools (and local schools) often struggle to find an age appropriate presentation they can bring to their students and families. One of the greatest benefits of bringing Mike Domitrz's briefing to your installation is you can ALSO bring the "Can I Kiss You?" program to your schools during the same day.  ENTER HERE to discover all the information you will want on the K12 version of this interactive, skills based presentation for students and staff.
THE ULTIMATE DAY
More and more military installations are having The Date Safe Project, Inc and Mike Domitrz provide an educational package which is truly all inclusive.  The military gets fantastic training, teens of our military members get a whole new approach to decision-making, and their parents gain simple skills to reinforcing positive choices back in the home.  For installations who want to provide their men and women the ultimate experience and growth opportunity, they will often do at least the following:
1:30pm:  "Can I Kiss You?" Educational Show for K12 Schools.
3:00pm: "Can I Kiss You?" Briefing for Men and Women Serving in the Military
6:30pm: "HELP! My Teen Is Dating" Workshop for parents.
Of course, you don't have to squeeze everything into one day.  Installations will frequently schedule Mike to speak on multiple days to insure enough briefings are available for all men and women to experience the training – while also providing time for the school programs and the evening workshops for parents. Help create lifelong change for your military community by bringing all 3 presentations to your installation!
Help Your Parents & Schools.  Call 800-329-9390.


Ask About the Special Offfer.