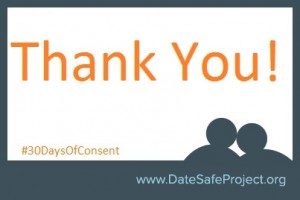 YOU did it! #30DaysOfConsent was an enormous success, and it couldn't have been possible without your help and support. Working together, many of you helped all of us raise awareness of the importance of consent and respect for Sexual Assault Awareness month!
THANK YOU for all your hard work sharing and spreading the word about #30DaysOfConsent, including the importance of consent and respect in this movement! We have seen some wonderful signs shared online, gathered some great comments, and spoke with some amazing people.
As a thank you, we have compiled all of the tips into this leaflet (SAAM Brochure) that you can post and share. Just because April is over doesn't mean that consent and respect should go away until next year. We want this to be the start of a movement to end sexual assault and to building a culture of consent and respect. The tips provided in this brochure will help to keep the momentum going!
Plus as an extra "Thank You", we are providing a 20% Discount off any purchases of materials on our website for the next week (through May 8th). Just type in the savings code of #30Days15 into the "Enter a Promo Code" box on the Checkout page and click "Apply" – you'll see your 20% savings almost instantly.
Thank you again for making the #30DaysOfConsent campaign such a success!