For 3 years, we have been warning parents of the added risks for their sons and daughters, preteens and teenagers, interacting on social video chat websites with strangers (such as Chat Roulette). The sites are known by many teenagers and young adults for being used as live sex shows between two strangers (even though some of the sites state they strictly prohibit such use). Too often young males and females mistakenly believe there is no risk in engaging in sexual acts with strangers on the other side of the world.
In addition to the emotional and psychological harm done by engaging in such acts, we have shared over the years how vulnerable participants are to becoming part of a porn scam in which the person on the other end of the video would film you without your knowledge. Afterward, the recorded video footage would be shared with others. We also warned how the "willing participant" on the other side of the world could easily be a sex slave being forced into this work. Yes, your child would suddenly be involved with the sex slave industry.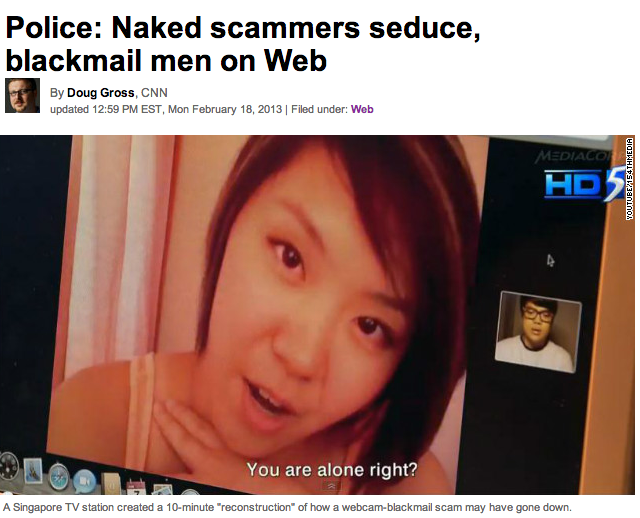 Unfortunately, all of the concerns we've been sharing have come true according to authorities in Singapore (click here to read CNN report). Plus, experts are sharing how the scam artist could easily infect your computer with a virus that enables the hacker to control your computer. Imagine the video being sent out to your entire contact list and/or email list; being posted on your FaceBook page, Twitter account, etc….
Sit down with your preteens and teenagers (sons and daughters) to help them learn about the many dangers involved in visiting such websites. Take the following steps:
Introduce the topic by mentioning the actual news story. Avoid over reacting and acting like every teenager is using video chat websites.
Ask your child how often they think this happens.
Ask your child WHY he/she believes some of their peers may use these kind of websites. Be prepared to provide other avenues teens can use for addressing these feelings and/or urges.
Share all the risks involved for TEENAGERS on these websites. Do NOT focus on your child. Sons and daughters hate being talked to like they've done something they haven't.
Share your questions in the COMMENTS section below (login to FaceBook to enable your ability to comment).