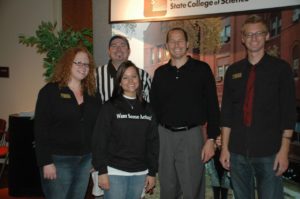 The North Dakota State College of Science turned out in electrifying numbers for tonight's presentation of "Can I Kiss You?." Professors, staff, and the entire campus did a wonderful job of bringing the students out to see unique approach to discussing consent, bystander intervention, and supporting sexual assault survivors.
Georgia, Shirley, and Kathy did an outstanding job promoting the event and working with faculty to get everyone involved. The energy in the theater was great. When a very small group of students did not represent themselves the way the rest of the student body believed was appropriate, a student leader at the college made it known that their behavior would not be tolerated. Hearing of and seeing a student take strong actions to hold other students accountable is a fantastic example of true student leadership.  Way to go, Wildcats!!
Plus, we had 2 special "Train the Trainer" sessions: 1 with the Student Senate and 1 with the RAs.  Both groups asked in-depth questions and showed a passion for wanting to create significant change in their community!  An interesting comment during one of the sessions was when students were talking about someone acting "creeping" and they said someone should tell that person to "Turn the CREEP down" – as in turn down how "Creepy" you are making people feel.
Check out their video: