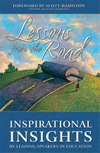 Lessons from the Road: Inspirational Insights by Leading Speakers in Education is 280 pages of inspiration written by the country's top speakers and authors dedicated to youth, higher education, and service to humanity. The "Chicken for the Soup" format has the the book divided up into a diversity of insights covering the following landscape of topics: compassion, difference makers, determination, effective communication, family, life, love, reflection, relationships, success, thinking differently and wisdom.
The Foreword is written by Olympic Skating Champion Scott Hamilton and so I was honored to have them ask me to write two chapters. Just having received the book, we were thrilled with its unique content and the power of the chapters. The various authors make for a great read. To get this book for only $15, click here. This book is ideal for students, parents and educators!!
**Partial proceeds from every sale through Mike Domitrz are donated to R.A.I.N.N. (Rape, Abuse, and Incest National Network) at www.rainn.org.