Is your installation looking for an educational program that is both Entertaining and Life Changing – while also

providing your males and females

needed

SKILLS

for addressing:

Consent,
Bystander Intervention, and
Supporting Survivors of Sexual Assault.

Do you want an expert and author who is going to have your military members rolling in the aisles from laughter and then just minutes later have the audience completely mesmerized in silence as he shares the personal story of his sister's rape?

[field name=iframe]
More important, are you looking for an expert who will help your military members take positive, important actions immediately and keep them talking long-term upon leaving the presentation?
"The message regarding consent, respect, and communication were right in line with the Department of Defense SAPR program goals, and well received by our population.

This program was certainly a good return on our investment. Even though it has been several months since the presentation, we still hear our Airmen talking about the message. I would definitely recommend this presentation to any military installation looking for a unique and entertaining way to address the issue of sexual assault."
Eric N. Single, COL, USAF, Vice Commander, Whiteman AFB

Mike Domitrz (a leading authority on consent, bystander intervention, healthy dating, and sexual assault awareness) understands military members want to be entertained and each installation wants an expert who will make a positive and long lasting difference in the lives of their men and women. They want a compelling and powerful program each person can relate to in a meaningful manner.
Plus, everyone wants realistic solutions! For this reason, Mike takes your men and women on a journey from hilarious laughter to hard-hitting questions and then provides the answers each person can use in his or her own life.
"Being able to interact with Marines and sailors in a way that opened up their mind to different approaches to situations often seen in society was the best aspect of the presentation."
Staff Sgt. Jared Stiles, Calibration Chief, Marine Base of Hawaii

"My troops said it was a worthwhile presentation with a lot of audience participation. They also thought it was tons better than a briefing, movie, or slideshow to cover the topic."
Master Sergeant, First Sergeant
Males and females from all cultures, backgrounds, ranks, and diverse populations appreciate Mike's sincerity and honesty.  While he presents one of the "cleanest" programs, he holds nothing back.
"I found it very funny and not sugar coated. When people sugar coat things, it makes the subject boring. I enjoyed it and laughed quite a bit!"   Technical Sergeant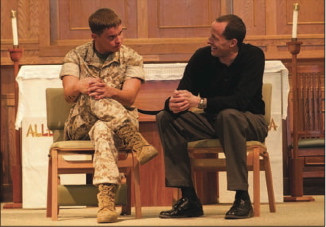 Through his role-playing with audience members and his portrayal of intriguing characters on stage, Mike turns what is often labeled as a "silent" issue into an engaging and thought-provoking event. While most people simply "make their move" with sexual intimacy, Mike shows why "asking first" makes all the difference! Everyone is given the precise words and skills to insure both partner's boundaries are respected at all times.
Plus, the the audience discovers how to appropriately intervene in potentially dangerous situations, including with their friends (alcohol, parties, clubs, etc…). In addition, they learn how to "Open the Door" to properly support all survivors of sexual assault – in and out of the military.  Through it all, everyone gains a greater level of admiration and respect for survivors of sexual assault.
"And he indirectly experienced sexual assault so he wasn't just up there blowing smoke and I respect that.  I like the examples he used to put sexual assault and rape into a different perspective."  Soldier

"I believe that by you opening the door, it will enable our Airmen to more often come forward and ask for help from our Mental Health Clinic, in addition to the SAPR office."
Valerie Galante, Ph.D., Licensed Clinical Psychologist, US Military
Throughout your event, Mike will reveal a new and fun approach towards respect that will change each person's outlook on  intimacy – whether dating, "hooking up," or in a committed relationship such as marriage!  When your men and women leave Mike's program, they will be telling their friends, "Wow!  I never thought of that stuff before!  I need to completely overhaul my approach to intimacy and respecting others."
BONUS:

Several installations utilize the "Can I Kiss You?" program for the annual training requirements for the men and women at their installation.

LEARN MORE.  CALL 800-329-9390 Today!
GREAT Turnout for "
Can I Kiss You?
"
The greatest way to help guarantee attendance to a briefing is to work with a professional team who is fantastic at creating a "buzz" on your installation and in your community.
From giving you fun posters to providing you with a detailed schedule for PR & Marketing Tips, The Date Safe Project Inc. works closely with you, your installation, and the community to do everything possible to help raise your attendance numbers and bring you positive media attention.
Being on a military installation, you know how difficult drawing large audiences can be for an educational event, especially getting Command to enforce mandated attendance. Getting the positive media coverage is often even more challenging.  Getting everyone at the event draws attention to the subject matter and encourages conversations resulting in long-term positive changes.
How does the "Can I Kiss You?" program have such an incredible track record of helping you draw large audiences and getting media involved? When you bring the presentation to your installation, you will be provided with an in-depth and thorough Marketing Package which includes: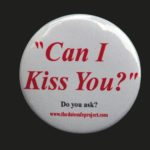 * 14 Pages of Marketing & PR Tips
* TableTent concepts and Ads
* Press Release for the Media
* Sponsorship Ideas
* Giveaway Concepts
* Headshot of Mike Domitrz
* 50 "Can I Kiss You?" Buttons
* 40 "Can I Kiss You?" Posters
* 100 Temp "Can I Kiss You?" Tattoos
* Commercials to run on TV and local access channels.
* PROMOTIONAL YouTube Videos!
AND MORE . . .

In addition, get the popular "Can I Kiss You?" T-shirts for incredibly discounted prices through the special 100 PACK you can receive by calling our offices at 800-329-9390.  Command, staff, and military members of all ranks love wearing these eye-catching shirts to help promote the program (and the shirts include a powerful educational message on the back).
Each idea and concept shared with you has a history of helping increase attendance  and/or gain media exposure. To insure you get the most up-to-date concepts, your team at The Date Safe Project Inc. works closely with installations to find out which ideas have been and continue to be the most successful so you only get the BEST marketing and PR results!! Each school and community which has closely followed every one of the suggestions in the Marketing & PR Tips Report has had overwhelmingly success.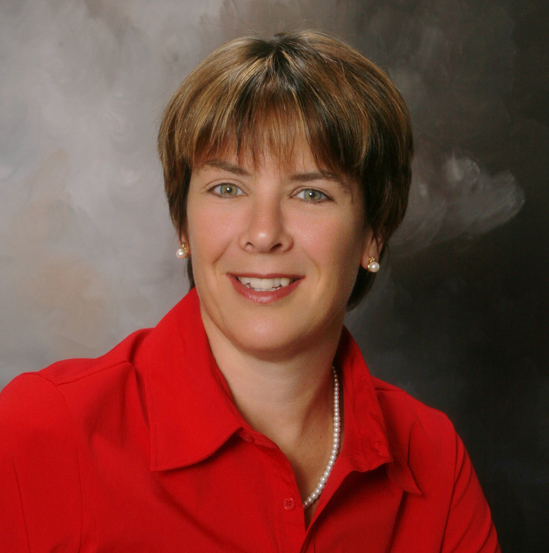 The best part? You get a TEAM dedicated to helping you. Rita Hookstead (your personal assistant at The Date Safe Project Inc.) will be working with you for the months and/or weeks approaching the event. She loves making your job easier AND Mike Domitrz will do everything he can to help you have a successful event! Plus, both Rita and Mike will be happy to help bring your campus positive media coverage.
"It is also a pleasure to work with you from a business standpoint. The fact that you provide great promotional materials and guidelines made your visit come off without a hitch."
Jeanine Arnold, SAPR Coordinator, Peterson AFB

CALL RITA at 800-329-9390 TODAY


and discover how much EASIER she will make your job.

Click here to email us for more information.

SPECIAL OFFER:

Call 800-329-9390 TODAY and you will receive a complimentary copy of the critically-acclaimed book "May I Kiss You?" by Mike Domitrz.  Installations use this book as curriculum for briefings and for creating positive change with their men and women.