Hands-on learning session for using Zoom Meetings
Below is are 2 videos for teaching how to utilize Zoom Meetings. The first video is the most comprehensive. The 2nd video was an earlier session we recorded. Your guide throughout both videos is Mike Domitrz, speaker, author, and founder of The Center for Respect. Mike can provide educational programs for schools, the military and companies using this exact same technology.
To get access to the full list of equipment recommendations at the end of this video, take the super quick survey at www.MikesGiveaways.com. When you complete that survey, you will also get the links to both of Mike's ebooks as a gift from Mike.
Most Comprehensive Version of "How To" Zoom Meetings:
Original Version of "How To" Zoom Meetings: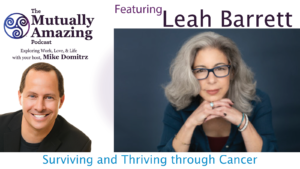 Explore surviving and thriving through cancer with Leah Barrett. LISTEN to the audio of the podcast or WATCH the YouTube video from the actual interview.
Read More »