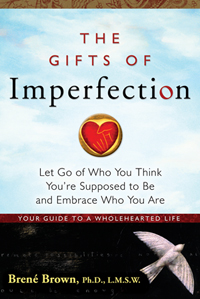 Brene Brown's "The Gifts of Imperfection: Let Go of Who You Think You're Supposed to Be and Embrace Who You Are" is a book that will challenge you to evaluate how you view and treat yourself.
Brene is an accomplished researcher who became famous through her riveting TED Talks and her best-selling books.
Whether you are single or in a long-term committed relationship, the lessons and personal insights you will discover throughout this book will help you be a BETTER YOU and thus help you thrive in your personal relationships.
Brene's 10 GuidePosts include:
Authenticity
Self-Compassion
Resilient Spirit
Gratitude and Joy
Intuition and Trusting Faith
Creativity
Play and Rest
Calm and Stillness
Meaningful Work
Laughter, Song, & Dance
Sound too "touchy feely"? Then you are going to be surprised because Brene Brown addressees topics in a way like no other. She has a way of connecting with each reader – regardless of what assumptions you bring with you.
Every chapter, I found myself having an "Aha" moment – realizing a truth about myself and/or why I do certain things the way I do. Best of all, Brene provided me new avenues for helping me ensure that I truly honor me for who I am in every aspect of my life.
Treat yourself to this potentially life-changing book. Click here to order the book today.