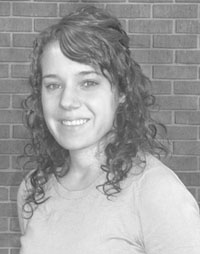 What Schools, Communities and/or Organizations are you involved with (past or present)?
• University of Wisconsin – Milwaukee
Masters of Science in Educational Psychology – Community Counseling
Bachelors of Science in Women's Studies and Communication, certificate in LGBT studies
• Counselor, The Healing Center
Counsel survivors of sexual assault
• Project Assistant, University of Wisconsin – Milwaukee (UWM) Women's Resource Center
Develop programming, advocacy and resources for students, particularly around sexual/relationship violence
• Volunteer Advocate, Sexual Assault Treatment Center of Greater Milwaukee
Provide support for survivors during the police and medical examination
• Group Facilitator, Pathfinders (formally known as The Counseling Center of Milwaukee)
Co-facilitated support groups with women around depression and LGBT identity
• Volunteer educator, The Girl Scouts of Milwaukee Area
Provided education for scouts about sexual assault and self-esteem
• Volunteer, 9to5
Lobbied at the capital for the Paid Sick Days campaign and covering sexual assault/domestic violence under ordinance
• Operations Assistant, UWM Housing
Developed program for employees around appropriate work behavior working and eliminating current sexual harassment
• President, UWM Counseling Student Organization
• American Psychological Association
Presented a poster presentation at conference around EMDR with survivors of sexual assault
How did you get started with the work you do?
Personal experience influenced me to get involved in the movement, and change the way systems work with survivors of sexual assault. I truly believe what happens to you personally influences you to do something politically!
What do you love about your work?
Giving survivors and their support systems validation for what they're going through, and helping them along their healing journey. Nothings more rewarding than a smile or tear of joy when someone realizes they're not alone, and their reactions/feelings are common.
What are your goals?
One of my goals is to research individuals who've experienced complex, prolonged sexual assault and see common trends within their behaviors. Since there's no diagnostic criterion for complex trauma (PTSD) in the DSM-IV, these individuals often get misdiagnosed or labeled with personality disorders.
What is the biggest change you would love to see?
Bring more awareness about sexual/relationship violence on campuses and within the community. There's a need for more education and justice for individuals that experience this violence. In an ideal world, this would be possible if universities, judicial, community and campus resources link and work together more to provide the best support for these individuals.
What is your favorite book and why?
One of my favorite books is "Lucky" by Alice Sebold. Her story shows the struggle and pain survivors endure with their assault and legal, family and community systems. The story also illustrates the strength survivors have to work/cope with their assault and others' reactions. I feel the book validates common feelings, thoughts and experiences for survivors
Please provide a fun fact about you others might not know:
Once I'm a Licensed Professional Counselor (LPC) I want to work with survivors in India or Africa.