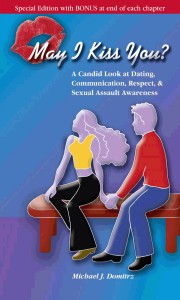 This one is a must-read for our youth, whether the youth is in junior high or college-bound. This book underlines how teaching respect and boundaries when dating can be a positive step toward sexual assault prevention efforts.
About Mike Domitrz:
Mike Domitrz has touched millions of people with his lessons about sexual assault and healthy dating. Over the past decade, more attention is being given to dangerous sexual behavior among our youth and to the crime of sexual assault – mainly due to cases and news stories concerning celebrities, middle schools, high schools, college campuses, and the military.
"In a cultural environment where all of us continually receive mixed and confusing messages about what a healthy, consensual relationship might look like," says Pat McGann, Director of Outreach, Men Can Stop Rape, "Domitrz lights up the issue with welcomed rays of clarity and insight."
After what happened to his sister, Mike wanted to make a difference. He teamed up with educators, professionals, counselors, parents, administrators, students, military professionals, and experts from around the world to found The Date Safe Project, Inc. and construct the "Can I Kiss You?" program. The program has gone onto to be presented in schools, universities, communities, military installations, and at conferences throughout the world.
Ultimately, his focus is to:
• Dramatically improve society's approach to healthy dating;
• Create a better understand of how "consent" is obtained in intimacy;
• Reveal the keys to effective bystander intervention with alcohol and sexual activity; and
• Teach how to properly support survivors of sexual assault
There isn't a person in this world that hasn't been affected by sexual assault or knows someone that has. And Mike is the perfect voice on this subject.
You can visit her website here:
http://roxannajolly.com/2014/05/whats-bookshelf/