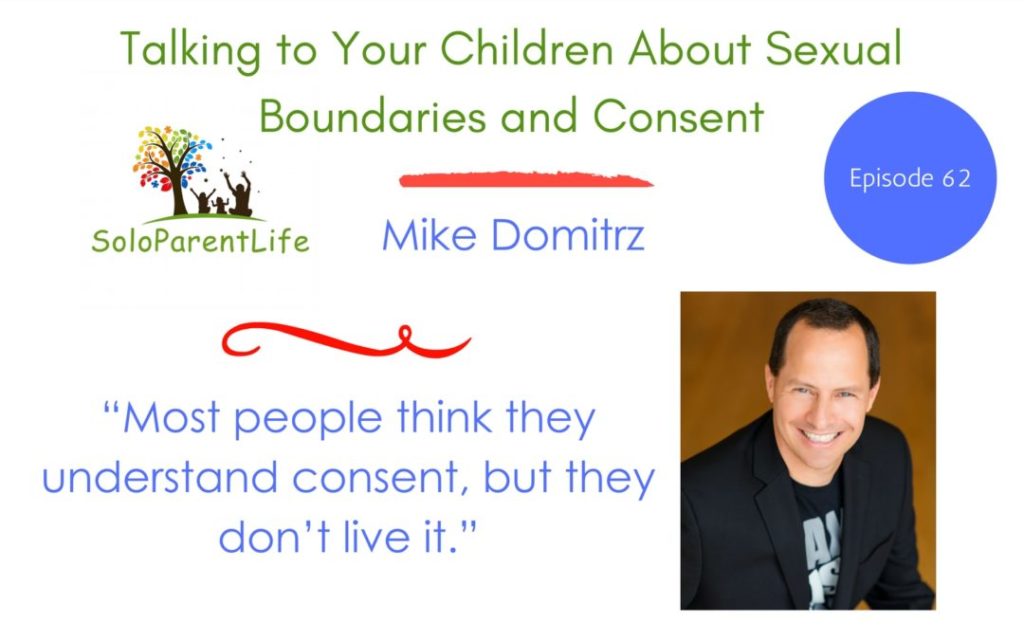 Dr. Robin Rockett is a rock star parenting coach who hosts the podcast "Solo Parenting Life"  . I recently got to know Dr. Robin from a mutual parenting conference we were on.  We had the opportunity to connect on her show and talk about how having consent conversations with our children starts by us  modeling the behavior. We also talked honestly about where our children are getting their sex information and how to turn the tide back to us as the parent. Here is what Dr. Robin had to say about our discussion:
---
Are you feeling a little anxious about The Dating Talk? My kids are still very young, but I am already beginning to think about how to have conversations about healthy relationships. So often we think of words like "consent," and automatically go to sex. Consent is about more than physical intimacy; it's also about respect and boundaries. The more our children understand their boundaries and needs, as well as the needs of others, the better they will be when things like sex and dating come up in their lives.
We often get a little stuck on all the heavy emotions around dating and romance, so I wanted to bring to you a resource to help you navigate tricky moments. My guest today is Mike Domitrz, the author of Can I Kiss You? And the founder of The Date Safe Project. Mike has created amazing resources for parents and kids to use together to have healthy conversations about relationships. Most important to Mike is that both adults and kids understand true consent requires more than permission to touch. It's also about wanting that intimate contact. Consent comes down to communication, and you and I both know how tricky it can be to communicate with pre-teens and teens. Luckily, Mike has for us today some easy ways to have conversations that make the whole thing feel less icky and personal.
Do you want your kids to be able to respond well when their peers start joking about sex? What about sexting and pornography? Mike is going to share with you today the tools and skills your kids will need to know in order to navigate these tricky social situations. In the end, I think these conversations are an avenue to really connect deeply with your older kids. You do not want to miss out on all this information today!
More in this episode:
Mike never planned to be speaking on sexual health and consent, but a family circumstance showed him his calling.
Understanding consent in the healthy and the legal way.
Clear communication with boundaries is key, and it won't "ruin the moment."
Teaching consent starts with ourselves.
How we can open the door to conversations about consent.
Issues of consent crop up even without the issues of dating and sex.
All about Can I Kiss You? And who it will really reach. There's no age limit.
Reading body language is a power trip.
How to talk to your kids without making it personal and emotional.
Giving kids skillsets to deal with all the hormones and feelings.
Kids have information available to them online, so we can be a resource instead of their other sources.
Dealing with sexting and giving them skills to handle moments with friends.
How to have a goofy or a serious moment to connect with your kids.