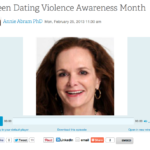 Dr. Annie Abram had our Founder, Mike Domitrz, on her show to discuss HOW TO talk with your sons and daughters about dating, dating violence, and respect (February is Teen Dating Violence Awareness Month). Listen to this insightful interview giving you specific strategy and approaches for helping your preteens and teenagers to make the best choices possible.
Have you ever had a conversation "go bad" when trying to help your teenager? After listening to the interview below, please share in the Comments section below what happened and what did you learn from that moment. Have you had a successful technique work for talking with your sons and daughters? Share your successful strategy in the comments below.
Click on the play button below to hear the helpful interview. Afterward, post questions you would like to see addressed for helping parents with these conversations.
[field name="javascript"]
Post your successes and challenges of talking with teens in the COMMENTS section below.