Thank you for joining us here to continue the conversation from the book Can I Kiss You? A thought-provoking look at relationships, intimacy, and sexual assault written by Mike Domitrz.
Below, you will find the bonus sections for each chapter specifically written for Students.
**If you can across the page accidentally, this is a special page devoted to Parents who are utilizing this book for helping their children.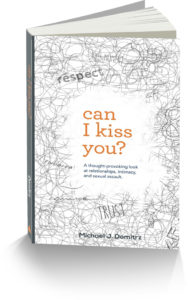 Chapter 1
Two tips for correctly using body language:
Pay attention to body language without making assumptions about it.
BE YOU! Do not try use body language that is not naturally you.
BONUS:
ASK questions and respect the answers before taking any actions.
Chapter 2
Are You Discriminating?
What are ways you treat genders or identities differently (positively or negatively)? Listen to yourself and those you hang out with when they discuss specific genders and/or identities (if they do)?
Chapter 3
What is the biggest fear many students have about "Asking First?"
The false belief that asking first will ruin the moment and that the person asking will look like awkward – which will result in being rejected. When you ask, look your partner in the eyes and be sincere. Being you while being respectful is the greatest gift for you and your partner.
Chapter 4
Talk About Consent
Talk with your friends about consent. What does it sound like to ask in a respectful and romantic way? How would you love to be asked? Would you tell a partner how you love to be asked?
Chapter 5
The "3 in 3" Rule
What 3 people will you reach out to TODAY and share the following 3 statements/questions with?
I am always here for you.
You always deserve to be treated with respect.
How may I be of better support to you?
Chapter 6
Could someone pressure or coerce you?
Almost every person has experienced being pressured into doing something they did not want to do. Write down why you believe sometimes people don't speak up. Remind yourself that the person who is doing the pressuring is the one engaging in the wrong behavior.
Chapter 7
#1 Self-Defense Move
There is no such "move" beyond being aware and alert. However, we don't want you living your life in fear. In a given situation, you will decide what is best for YOU. That choice becomes your #1 Self-Defense move.
Chapter 8
Fun, low-cost dates:
Homemade picnic basket and walk around a public park or beach. This can be free if your family has all the ingredients you need. Being outside is also freeing.
Do you both have a sport, activity, or hobby you enjoy? Do that together for fun.
Ask your friends their favorite FREE date ideas they enjoy. You'll end up with way more than 3 ideas.
Chapter  10
What will you do in your local community? Would you like to bring Mike Domitrz to speak at your school? 
Here is a quick 5-minute preview video of Mike's program for schools:
Bring Mike to Speak at Your School
800-329-9390