"From "the look" to "making the move" – we've been taught it all wrong.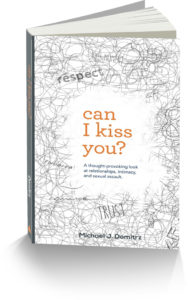 You are about to be taken on a fun, helpful journey revealing the faults of body language, the joys of talking, the serious impact of wrongful behaviors, how to EXPECT RESPECT from both partners throughout all facets of a relationship, how to help your family and friends, and much more! Best of all, you are going to gain realistic skills you will have fun using in your life and for sharing with those you love (both children and adults).
Can I Kiss You? is an in-depth look at the positive realities of intimacy and the dangers that exist in the current dating culture for teenagers and adults. Written by Mike Domitrz, this insightful book full of candid advice, real-life scenarios, and interactive exercises is revolutionizing each person's approach to dating & building respect – all while helping address the reality of sexual assault in today's culture, including how to intervene to help others. While most people simply "make their move" on a date, Domitrz reveals why asking first makes all the difference.
Concepts & Lessons Discussed in the Book:
Over 20 Interactive Exercises
Dating Fear Factors
Numerous "How To" Skills
Body Language Challenge
Asking First & Respecting the Answer
Blame
Specific Tips for Healthy & Fun Dating
Peer Pressure
Alcohol & Date Rape Drugs
Bystander Intervention
Parties
Technology
Sexual Harassment
Supporting Survivors
…and much more
ORDER YOUR COPY TODAY!!
Reviews for "Can I Kiss You?"
**Over 50 experts, including many parents, were given the opportunity to read the book and have since overwhelmingly endorsed it!!
"Why didn't someone teach me this sooner? This is brilliant and easy to implement immediately. Can I Kiss You? is the ultimate guide to help teens and adults make healthier, better choices surrounding sexual decision-making." — Pegine Echevarria, MSW, CSP. Author of For All Our Daughters and Women's Leadership Expert
"This is just not a book or a program! Can I Kiss You? is a thought-provoking, courageous, and honest conversation that must be had by all humans—young and old. In a world where dating, intimacy, and sexuality are not deeply understood, practiced, or discussed in healthy ways, Michael Domitrz is a loving voice on an unwavering mission. This books offers powerful education, clear direction, needed discussion, and deep healing on a topic that permeates all aspects of our society and world." — Joseph Gandolfo, M.A., LPC, Counselor, Speaker, and Author of The Great Teenage Myth
"Ground-breaking! Shattering the assumptions many of us have been taught about typical courting behaviors, Can I Kiss You? challenges us to shift our approach to communicate more clearly and respectfully. This book is rich with examples, reflective questions, and resources. And it's written in the conversational, interactive tone that has made Mr. Domitrz's presentations so impactful and in such high demand around the world. I can't wait to share this book with friends, family, and the hundreds of students that our nonprofit serves." — Randi Rubenstein, M.S. Public Health, Founder of Education for Successful Parenting, Author of My Life-Plan for Parenting "
"Can I Kiss You? may be one of the most important books you ever read. Mike Domitrz's important work changes, and saves, lives! Read this book; then re-read it. And make sure to get copies for anyone you love and care about." — James Malinchak, Featured on ABCs Hit TV Show, "Secret Millionaire", Co-Author of the Best-Selling book, "Chicken Soup for the College Soul"
"As a sergeant who supervised the San Diego Police Department Sex Crimes Unit for ten years and the founder of End Violence Against Women International, I am painfully aware of the need for this book and the outreach Michael J. Domitrz has with young people. When I read the book, I immediately thought, "I want my nineteen-year-old daughter, a university freshman, to read this." The book isn't just for young people who are exploring healthy relationships and intimacy. It can also be extremely helpful for parents and other family members who should be talking to the young adults in their lives about healthy relationships and potential abuse. Professionals such as teachers, social workers, counselors, and law enforcement will also find the information useful. I highly recommend adding Can I Kiss You? to your reading list." — Joanne Archambault, Executive Director, EVAW International
"Can I Kiss You? is more than a sexual assault book—it is more than a dating book. Its pages are filled with valuable life-saving scenarios, questions, and solutions; it will empower you with heightened awareness that could save your life or the life of someone you know!" — Becky Mackintosh, Author, Speaker, Teacher, Mother, and Grandmother
"Domitrz's Can I Kiss You? is one of the greatest resources regarding respect, consent, and relationships. Filled with knowledge, examples, interactive exercises, and links to web-based resources, this book will be useful to anyone seeking guidance in developing healthy relationships, parents wishing to address more than the physical element of the 'birds and the bees,' and educators wanting to reduce rates of sexual violence." — Eric S. Davidson, PhD, MCHES, CSPS, Director of Illinois Higher Education Center for Alcohol, Other Drug, and Violence Prevention
"Can I Kiss You? breaks new ground by sensitively examining every aspect of physical intimacy from "The Look" to "The Morning After." With gentle humor and a deft hand, Mike Domitrz gracefully walks us through the newest issues in this age-old topic. Without condescension or judgment, Mike gives our children the tools they need to grow up sensible, strong, and healthy and with a better appreciation of what makes them—and their partner—comfortable, happy, and content." — David Altshuler, M.S. and Author of Love the Kid You Get. Get the Kid You Love
ORDER YOUR COPY TODAY!!